22 May 2008
Himitsu no Tatsujin-chan Special! Tatsujin is like someone who is great and sorta like a pro in a particular field. So each of the Arashi-chan member got a pro in a certain field to introduce. THIS IS A GOOD EPISODE I TELL YA.
xD When they all argued that their own Tatsujin-chan was the best and starting pushing each other around, Ohno was standing at the side, not participating in the idiotic bicker. Well, lets just say the rest weren't please. xD
Aiba-chan went first. (
Note: I AM NOT DOING THE JAPANESE SUFFIX THING. Its just that on this show, everyone who isn't a guest has a -chan added behind their names. For the sake of staying true to the show... I am doing this. xD
) Aiba-chan brought out this dude who can guess the song just by listening to roughly 0.5 seconds of the intro. I was like... "I'll be damned!!" Seriously, that guys is a fake. A FAKE I TELL YOU. Especially the part where they just played like... for a tenth of a second or so. That is totally impossible. RAWR! Then all the other members tricked Ohno-chan into competing with the guy on Arashi songs. xD They put words into his mouth like "I'll show ya why I'm Arashi's RIIDA!" xD Ohno-chan was like "Wait... I said something?" xD That idiot. Out of ten times, if Ohno-chan wins one, then the guy wouldn't get the 10 thousand yen that Aiba-chan offered, out of the members' pockets. Without their consent, initially. Ohno-chan got pwned badly at the beginning because the dude was fast at pressing the button. But Ohno-chan got "Step and Go" correctly. Well anyone would have gotten it correctly. I am glad Ohno-chan won though, this other dude is totally cocky.
Sakurai-chan went next and brought this guy who plays a game of music and rhythm on the arcade game thingie... like he was playing the freakin' piano. No kidding. I was like... =O I was like... =OOOOOOO You get the point. I was totally like... amazed. Everyone was extremely excited in this segment. xD You have no idea no many times I watched this. The Arashi-chan members then split the nine buttons of the game up and tried to beat the guy. Well... lets just say they were far from achieving their goal. BUT, we can see that Arashi-chan is good at space saving between the five of them. I bet they do it all the time. In private. xD I am sorry. xD Nevermind me, really.
Ohno-chan brought it pantomime pros. Well this was kinda boring. Sure the two were great, but its really not my cup of tea. xD Sorry. They did a bit of "Gyakukaiden" which was nostalgic and they had Aiba-chan and Ohno-chan do it for Arashi.
Matsumoto-chan brought in bubble-people next. Nino-chan made long bubble. Nino-chan and some others went into big bubble. xD Well yeah. And Sakurai-chan brought in remote control car champion. Well yeah, nothing much here.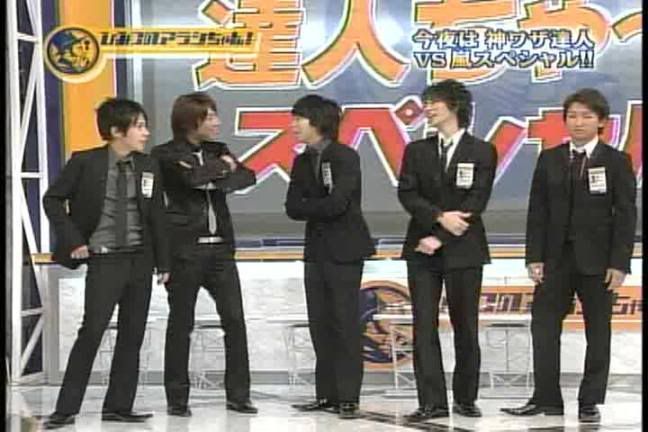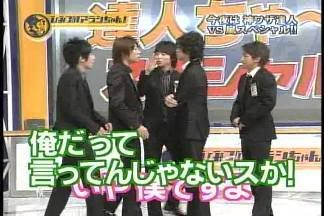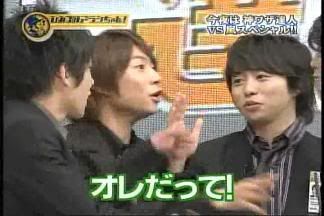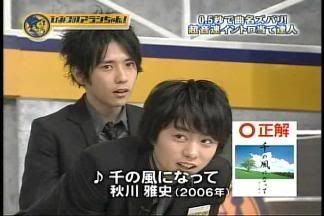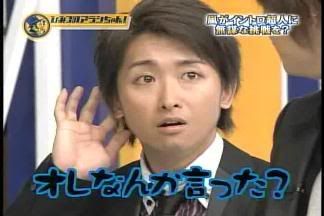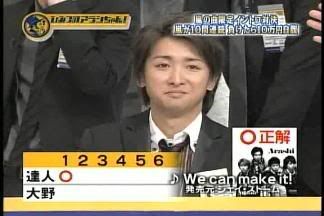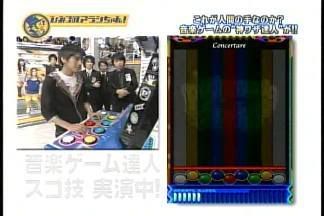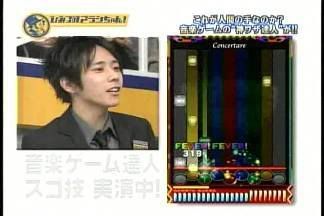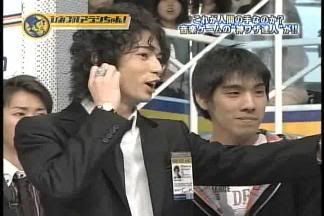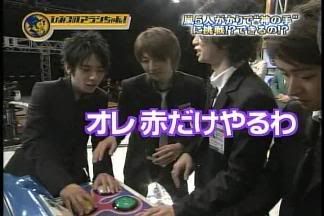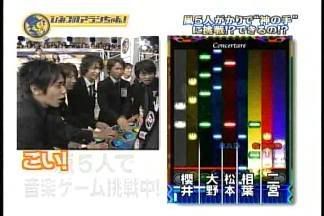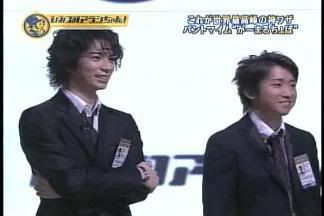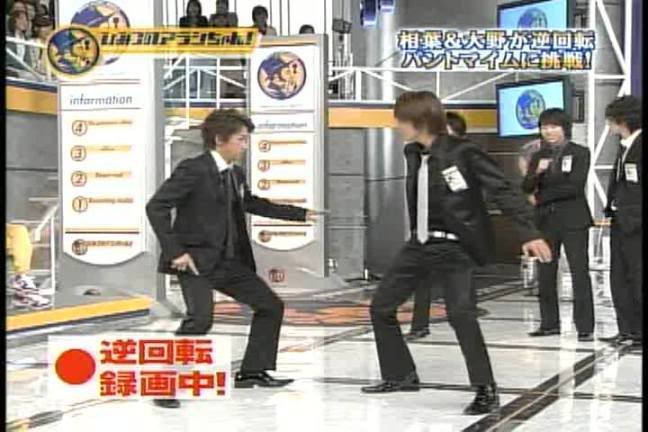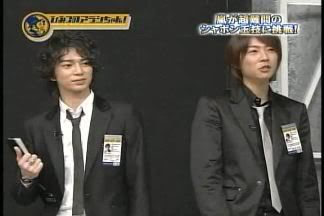 P/s: I am considering to be a nudist. Its so hot clothes are really a hassle. What? Too detailed? No, silly, you can't have too much details on crap like that.