Scheduled to be aired on the 7th of August, Arashi's appearance on Utaban will see a change to keep things exciting. Has Ohno versus Nakai seen an abrupt end? Say it isn't so! I will miss it! But, I am looking forward to the new fights between Nakai and a different member of Arashi. Arashi will be appearing on the show to promote the single "
Truth/Kaze no Mukou he
", a double-A side single for Arashi since a very, very long time. "Truth" is the song for Ohno's airing drama "Maou" and "Kaze no Mukou he" is the theme that will be used by NTV for its coverage of the Olympic Games which will begin on the 8th of August 2008. (
That's triple 8, 8 is an auspicious number for the Chinese race because it sounds like another word in Chinese... that is... prosperity
.)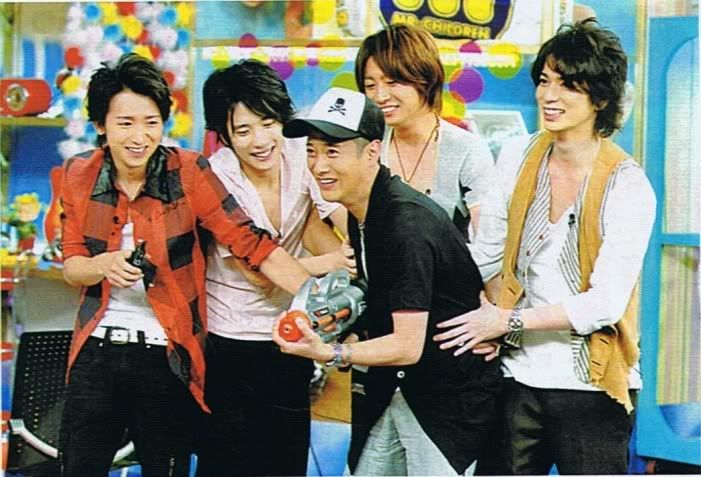 As we can see, Ohno has become one of the members that is holding Nakai back from his rampage. Evidently missing from the picture is Sakurai Sho. We can only imagine what Sho could have said to set Nakai on fire. AND, has their sitting positions which have lasted for 8 years changed? Because if Sho were to anger Nakai, sitting next to him will make the chase too easy.
We can also see that Sho's group-clown image has been promoted since the past few years and we wonder if he remembers anything from his fancy ivy-league education.
I am glad that Utaban is changing things because, after a number of years of Ohno versus Nakai, though I will miss it, its getting old as I have previously said.
Scan credit:
yuckie-chan