31 December 2009
This is a freaking 4-hour show. And enka scares me. So I'll just do a few~ because they're singing older songs... some of them. It is not a summary of the year's music scene like the other year-end specials. They sang older songs as well and some songs are so great, you won't get bored.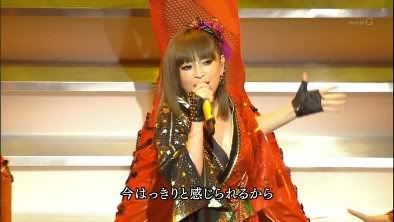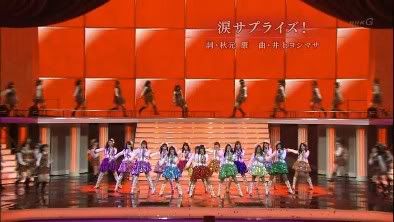 Ayu opened the show. I had a strange dream about her and it was nothing good so I'll just shut up. Does her face not look weird nowadays? It isn't the aging, it is something else. I dunno, she reminds me of Madonna nowadays, and she's a bit too young to remind me of Madonna.
There's AKB 48. Happy, jumping teenage girls. I know my teenage years was just... 3 years ago (T_T) but still I feel like I'm so far away from that... teenage mindset now that I just cannot relate to the whole teenage thing. Like, my peers are reading fucking Twilight, jeez. And they go "Squeeeeeeee so hooooooooooooooooooooooot" and I roll my eyes. "River" is a nice song. So yeah, and cute outfits too.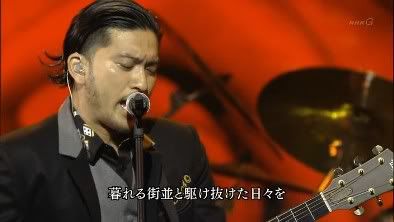 TOKIO with "Taiyou to Sabaku no Bara". Have I mentioned I love this song? Not enough eh? I love this song. I find it very... nostalgic. It just gives off the vibe of an old song. I hate Nagase's hair. Can't he cut it or something?
There's flumpool. Can the bassist actually see? I mean... can he?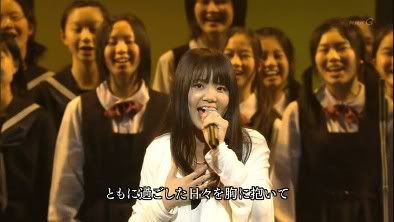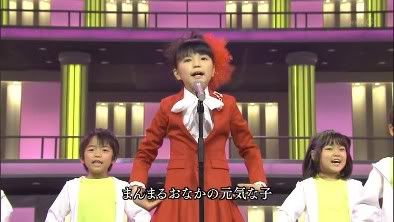 Ikimonogakari's "YELL" is a nice song. The girl can sing!
I am so into Studio Ghibli nowadays. I just watched "Gake no ue no Ponyo". I noticed that their productions usually have this rather abrupt ending. Ponyo scares me when she is in the midst of changing from the fishy to girl. The face... are you sure this is for kids? But the girl annoys me. Somewhat.
That's a fucking birdcage on her dress. When I first saw it, I was like "No Shit". And then I rubbed my eyes and looked again. WTF. Seriously... a birdcage, on a dress? What is this? Haute couture?
Remioromen singing "Konayuki" and it is a good, good song. They probably cannot achieve a success of that level ever again. They are like a... two-hit-wonder. =D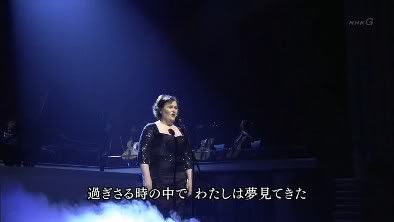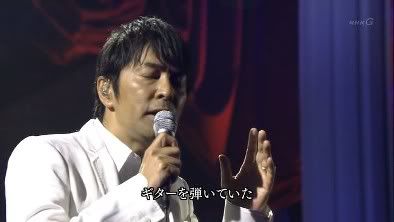 Susan Boyle escorted to the center stage by KimuTaku. The performance as nothing as moving compared to her audition. Her audition was a big fuss because no one saw it coming. No one foresaw that she could sing. And they were laughing and rolling her eyes and when she truly brought it, everyone was cheering. That was why she was such a sensation. A bit too hyped up, but still.
"Kowarekake no Radio" is one of those really good Japanese songs, but it is also old. When someone performs a song from 20 years ago at such a big event, you know that they probably will be known for that song alone in the future.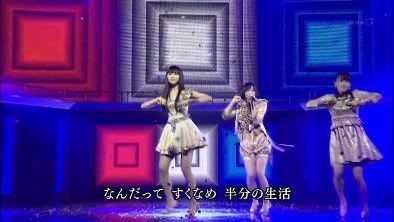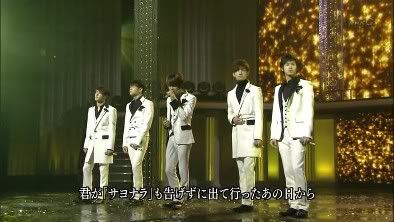 Perfume with "One Room Disco". Kashiyuka's outfits are always cute. The song's not bad. Like the outfit better.
Tohoshinki with "Stand By You"... so are they broken up yet? If so, why are they performing together? What's with the hooblah about the three on the left suing the company or something?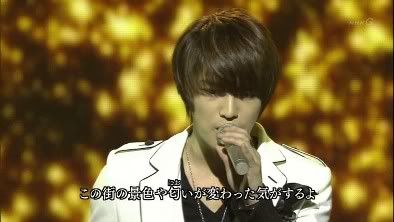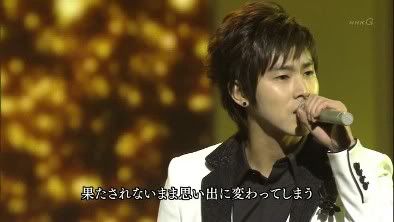 I am sorry, but I am so out of touch with their news. They just seem a bit bland nowadays that I really don't bother anymore. The song's not bad, not something that leaves a strong impression on my head and I am not being biased okay? I listen to AKB 48 now. If I want to be biased, I'd be biased about THAT instead. I welcome good music. Unless this crazyass psycho bitch from work decides to release an album. Doubt anyone would buy that, considering the fact that she's a 3 feet tall midgety bitch with bad hair and is really not hot. Bitch. I am ranting.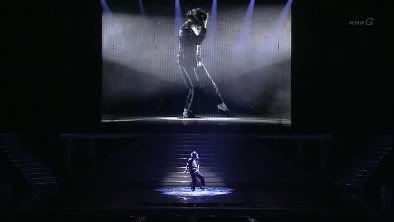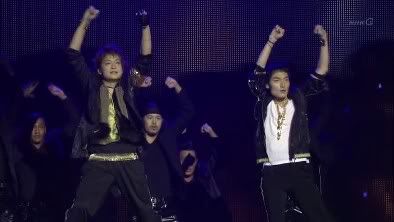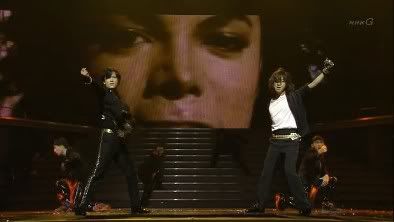 WOOOOOOOOOO work it, SMAP! I've never seen anything better from SMAP in recent years. This is the result of them having practiced their performance. Most of their performance sorta just showed that they don't quite give a shit anymore about coordination and accuracy. This proved that they could still bring it if they want to! The crotch grabbing, the moonwalk, the "Smooth Criminal" move. Of course the choreography ha to be given some credit too, but it is refreshing to see SMAP being passionate about a performance again. This is something for the books! I've never seen a sexier Nakai.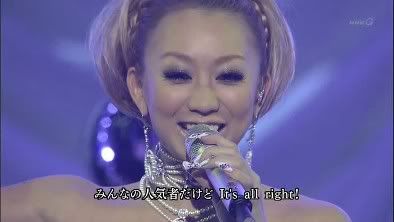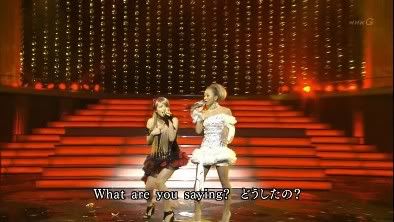 Koda Kumi should dress her age. When I learned that she was born in 1982, I had the shock of my life and I stared into space for two whole minutes wondering what went wrong and why does she look 30. That was three years ago and she was... 24. She should dress her age, because she is very pretty and has nice boobies.
Misono.... was wearing a nice dress. She was only there on account of Kuu anyway.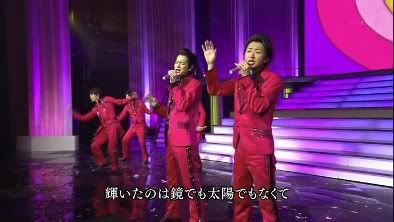 Arashi performed... about four songs that night. Was it four? I dunno, I couldn't focus on the screen when Jun started to go down to shake hands like he's Hatoyama and when Nino went all "Kouhaku Utagassen TANOSHII". I was like wtf wtf wtf weird!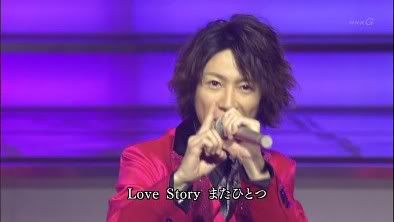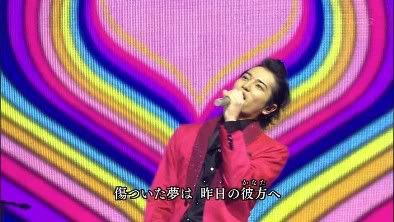 Don't like Aiba's hair. Don't like his hair fluffy with parting, fluffy without parting is okay though. Don't like how red the outfit was. I usually like the red and black combo but... there should be more black than red. No matter what is the new black, black is always awesome.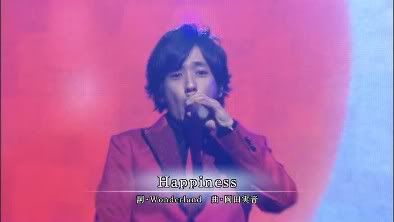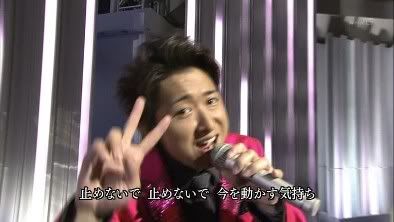 I think Nino is gay. And I think Ohno should really take it easy with the fishing. Even if he uses a ton of whitening products, if he keeps going fishing at the rate that he was last year, it wouldn't be any good, really. Tanned is fine, looking like you slept on the toaster is another whole different thing.
There was this part, when Sho was dancing to "Believe"... and his hair was kinda messed up as he swung his head around. Totally the sex. I like the way Nakai waved them over. Of course, Arashi's interview was cut short by the surprise appearance of Yazawa Eikichi.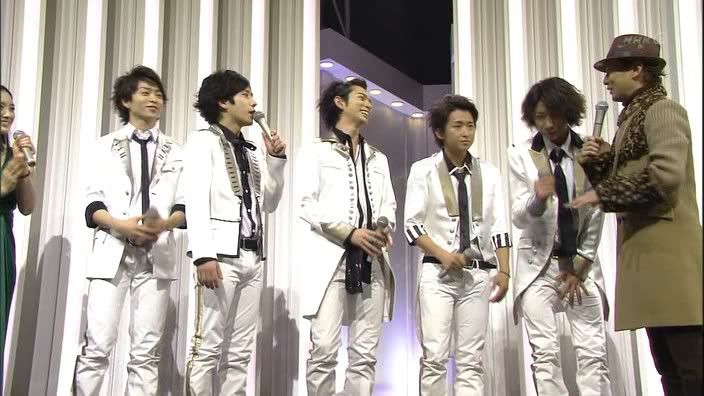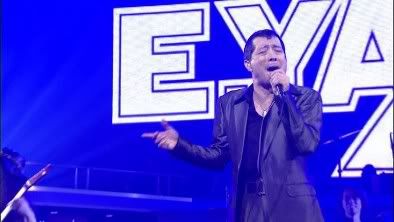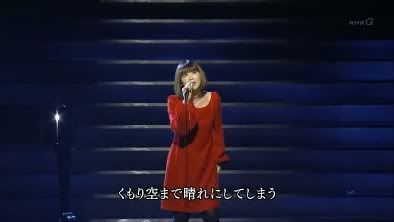 That's Yazawa Eikichi, apparently he's a legend. Way before my time. Oh well, dude's ancient. Ayaka gave her last performance before taking a long, long break to treat her illness. She'll be fine, cos Mizushima's there. Now who wouldn't want to be fine and live a long healthy life if they're married to Mizushima Hiro?!
White won. Dicks won. Almost all the time. Lemme search a bit. They won for the past five years. Hmm... that's the longest winning streak in history.