In my quest to reclaim my love for Arashi, I re-watched some things. The thing in this case would be AAA 2008 at the Kokuritsu Stadium.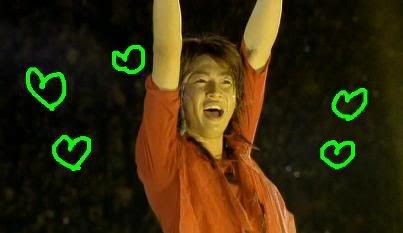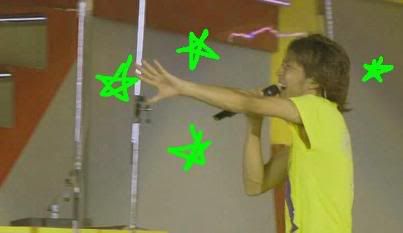 I've given it some thought. Arashi members are like different types of kids you have in high school. There's the gay diva, the jock, the freaky one, the geek and the class clown (who is pretty and everyone wants to violate him. I am pretty sure I am not speaking for myself alone.) Now, if you throw in a wannabe goth, then they each represent one of the categories of kids in school.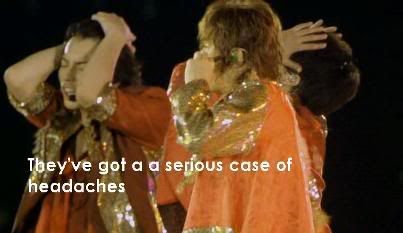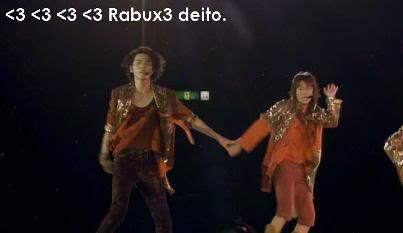 Someone tell Nino he moves funny. He was wearing a bling-ed bangle. That just makes him gayer than ever. And he has the unmatched talent of making every dance step, every move seem gay. You know the way he stands during Mannequin Five? One day, I'll take a screencap of all the ways he stood. It'll be fun. xDDD The guy's a total geek too, and how a geek got to be in a boyband sure beats me.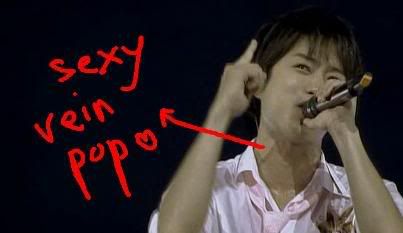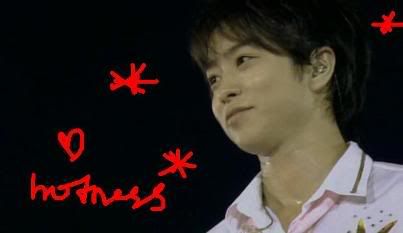 They should tell Sho that announcing to the entire crowd that he wants to make love from Monday to Sunday is not a good idea. And parents in Japan allow their kids to listen to their songs? Arashi sneak in obscenities about their orgy sex life in their songs. He looks yummy during the tour. That hair suits him. Sho, one word, manbangs. Get it, always, cos they make you look so good.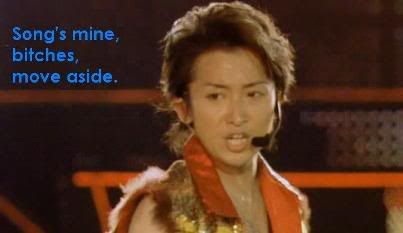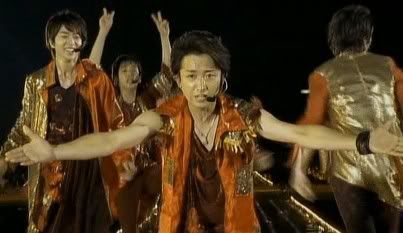 I don't like the Maou hair. It makes him look old. He looks like a walking corpse during the Maou era. I remembered that Ohno used to be more entertaining. Remember G no Arashi? Damn it was their best show. Wait, or was it D no Arashi? Those were good times. Everyone was immature. Immaturity makes a good show.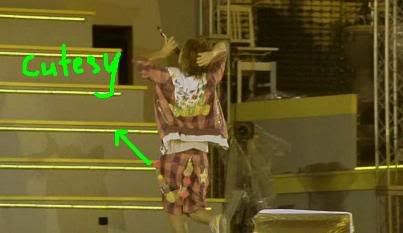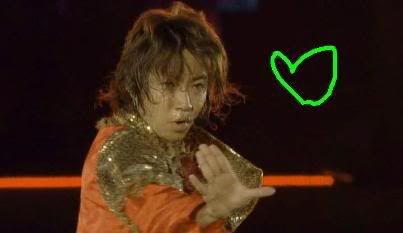 Aiba... damn he knows how to shake his ass. And he gives such an adorable vibe, I suspect he farts rainbows and shits mint ice cream with chocolate sprinkles. You'll never know. And his solo song is... XDDDDDDDDDDD cute. Never thought there would be a day where I describe a grown man as cute, but that is exactly what Aiba Masaki is. He's so endearing, I cannot even diss him about his voice. And we all know that voice is far from perfect, but it makes Aiba, Aiba.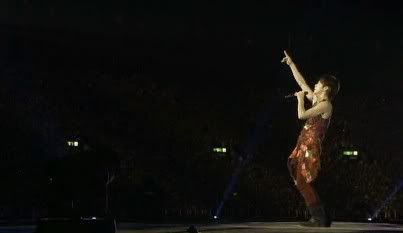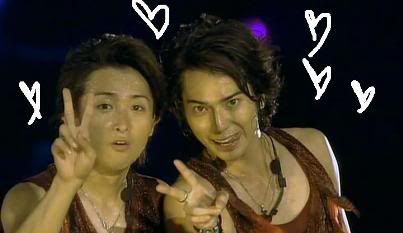 I hate to say it, but it hit me. None of them can sing. Gasp, how dare I insult Ohno, the best singer in Johnny's Junior at that time? Well, no, seriously, they can sing. You see why recently, they sang all the verses in pairs or as a trio? The chorus, of course, is a group effort. That's cos THEY CAN'T SING. Do I sound like I am irritated? I am slightly constipated right now. Too much details? It is fine, you don't know me anyway. xD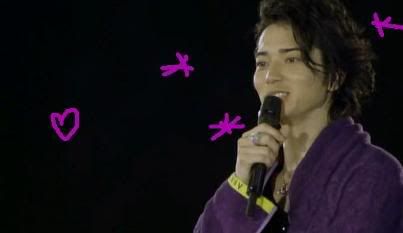 I think I have arrived at MatsuJun, haven't I? Despite him making me super turned on by his brains in that NEP League quiz show, I can't help getting annoyed cos he has that "Look, I am so cool, I am so smart, I have to ask for something cool, like a wine cellar as a prize on TFP2 cos I am cool and sophisticated. I don't not interact with you mere mortals." vibe. That's a hell of a long name for a vibe eh.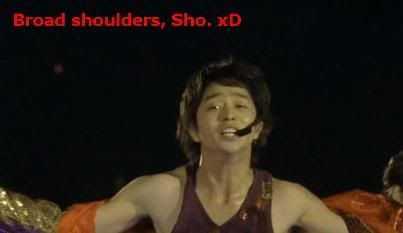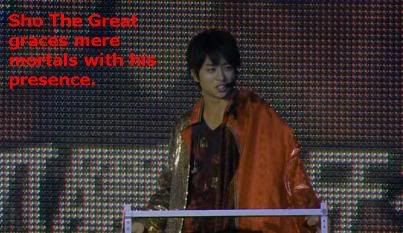 Let it be known that I only watch the solo performances of Aiba, Nino and I used to watch Ohno's until very recently. I can't stand watching Jun do his solo because they are usually overdone, very uncool (though he clearly thinks otherwise) and his fake rocker thing is not working. Boyband femmies don't do rock well, dear.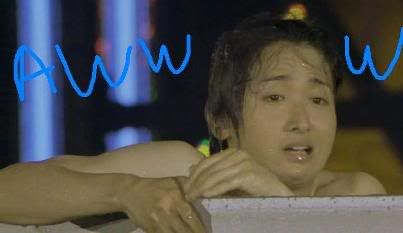 Sho's are rather boring. Not that I ever gave it a chance. It took me just five seconds to decide if I were to waste time watching the performance. Nino's are always very nice, but I didn't like the "Himitsu" performance during the AAA 2006 tour. Apart from that, it was cool. "Kako" and "Niji" were more than good, they were brilliant. Gay geek can work the soulful singing thing, though his voice was anything but impressive, we can let that one go. Aiba's are adorable. Always adorable. He pulls off freaky fluffy pastel gay fashion with surprising manliness. Despite the horribly gay outfits, all I can see is a man who wrestles big felines.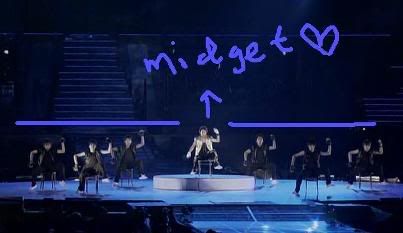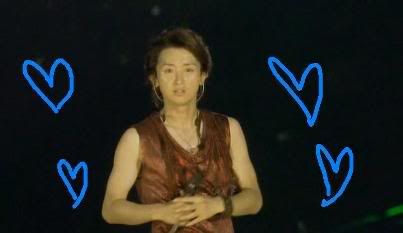 I watched Ohno's solo this time. The midget can move y'all. That outfit is not flattering though. I have developed hate for all outfits glossy. You'll never catch me in one. Ever. If in the future, many, many decades from now, someone decides to bury me in one, I'll rise from the dead and drag em with me. You watch. I have an idea of why they had to raise the part of the stage where Ohno was doing the chair dance, but I hate to make fun of midgets. Although I already did by calling him a... uh...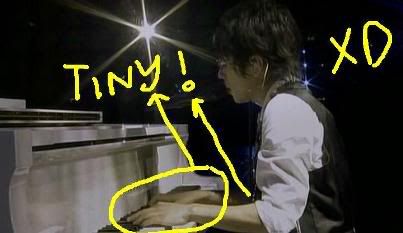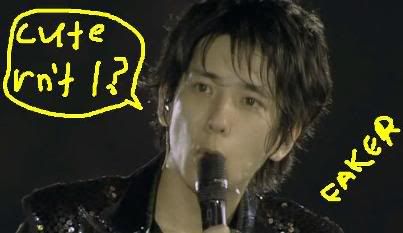 It always amazes me, how Nino could move his fingers on the piano keys fast enough to keep up with the pace of songs. I mean, he has small hands. You know what they say about men with small hands? What? They don't look very graceful while playing the piano. That's what I was thinking. Totally. Nothing else. Like, what? People would think that I was implying about his thingie being the size of his hands, but I so totally wasn't. O_O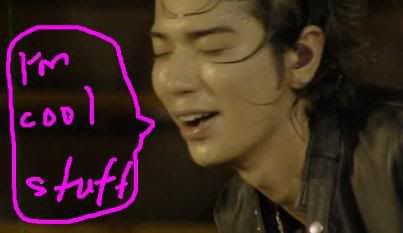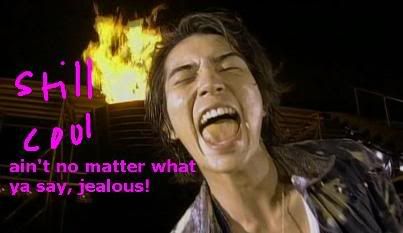 OMG Jun just graduated from being the worst singer of the group. Gave the title to Sho. Some, of course, might argue that it is Aiba, but as I said before, I like that nasally, squeaky voice of his. Basically, for today, Aiba can do no wrong. Disagree and I'll throw a shoe at you.
Nino bites.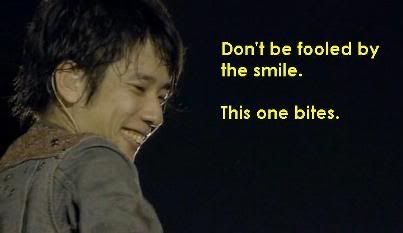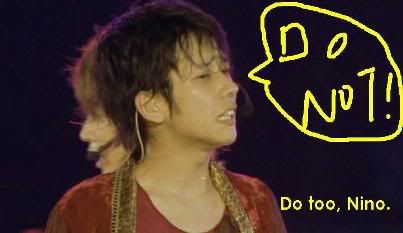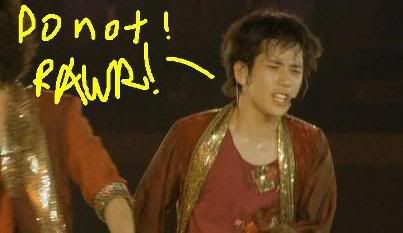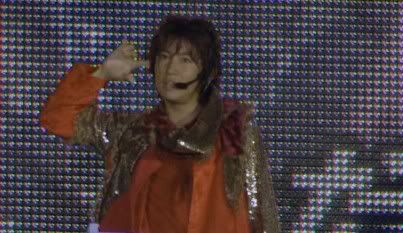 You think I am kidding. Did you see how he barked at Sho about the soyokaze thing? If Sho persisted, Nino would lunge at Sho and bite his ears off. That's one evil gay midget.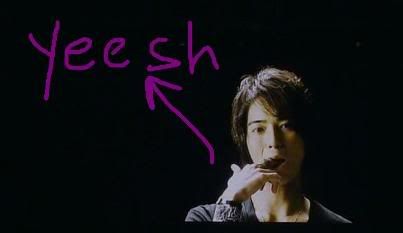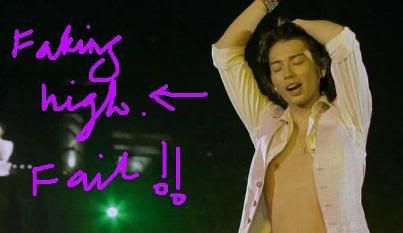 That video they played before "Re(mark)able". Do you think Jun put that middle finger into his mouth cos he thinks its cool, or he's implying that he loves (giving) blowjobs? That's dirrrty, what he did. Rings have lots of bacteria on them. Yeesh. His hips are amazing though. xD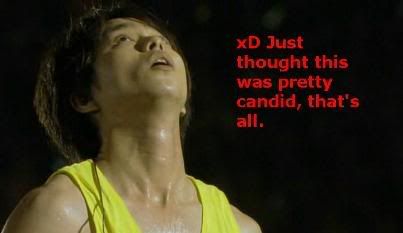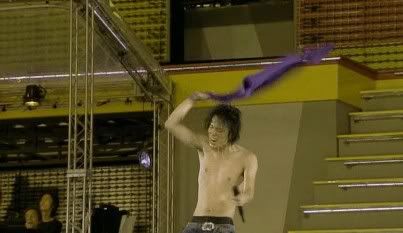 Nino was the only one who didn't slide around towards the end when the rain was pretty heavy. Wet blanket. Probably thought it was filthy. Nino's such a girl. xD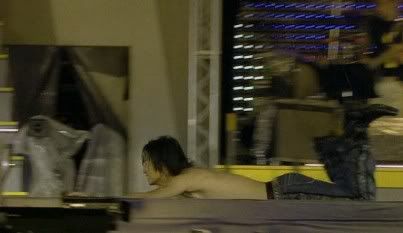 And that is a conclusion I got from watching AAA 2008. Aiba can do no wrong, Jun's dirty, Nino's the gayest midget that ever gayed, Sho likes sex, a lot and Ohno looks like a squid barbecued whole.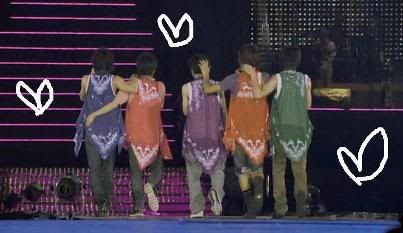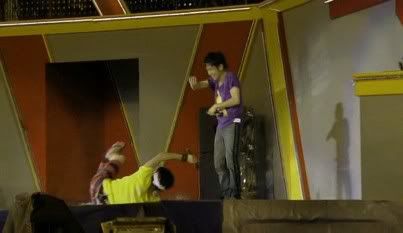 And I spent so much time watching this, I think I am going to be late tomorrow. See if I care. Uh... if anyone is reading this, I am not her. =D