17 August 2008
Lol, its about time I put in an entry. I have been drowning in assignments. So, I haven't updated as often as I did. I had to wake up at unearthly hours (
around 7 a.m.
) to prepare for classes. It is extremely energy consuming. I miss the holidays. I wanna watch the Olympics.
This TV appearance of Arashi's, they speak of Arashi like they're SMAP. And we all know that Arashi is not SMAP. They have never had a million-seller. Their debut single came the closest, but it wasn't there. So when I hear the people describing Arashi like they're huge, I wonder, where did that come from? I know they're at their peak, and evidently, I like them a lot, but I just don't see why people regard them as the huge stars that they are.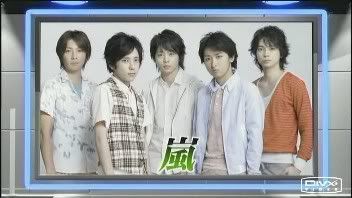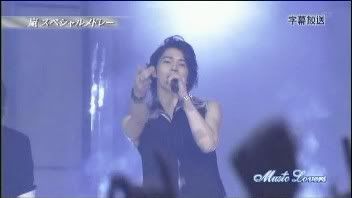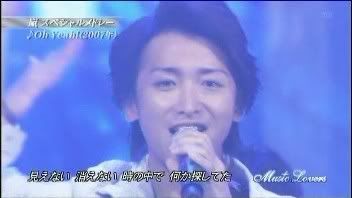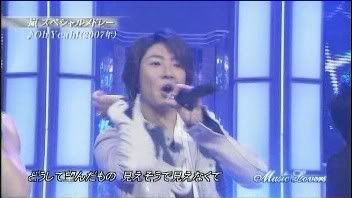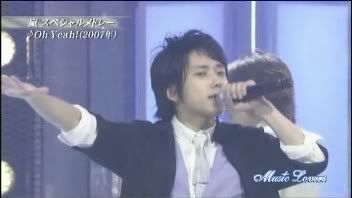 But this episode is hilarious. First, they sang "Oh Yeah!" which I was once addicted to. Very uplifting and happy. Just what I need as I despair over my life. Jun's armpit hair is really... thick. xD Like his eyebrows. Thick and dark. If I have to watch another live where Nino says "Irasshaimase" I... will... um, not do anything much about it. But he has to find something new to say, really. Aiba has a funny voice and Ohno's aura is not really that uplifting during the taping of this show and it shows in the performances.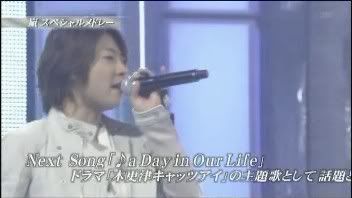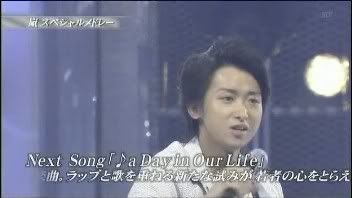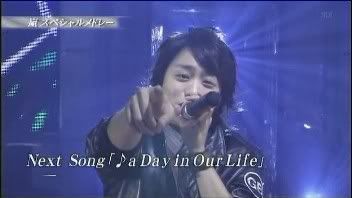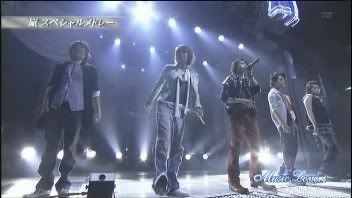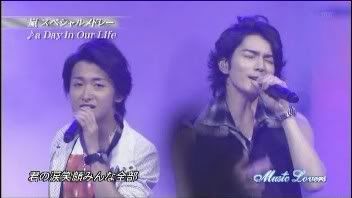 They later sang "A Day In Our Life" which I am dying to point out that their "life" should be plural if it comes after the word "our". Which I find rather discomforting but then one can argue that this is because you see, the five live their lives together, therefore making it singular, because they are THAT close. Yeah, I care. It is grammatically wrong and I am irritated by it. Nakama Yukie was in the crowd. Don't get me wrong, I like her, she's pretty and extremely polite and stuff but gosh she's such a poser. Maintaining her composure like that. It is... like... very dramatic.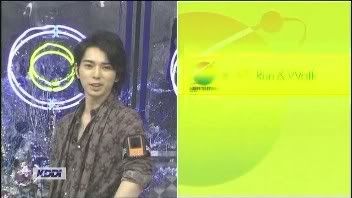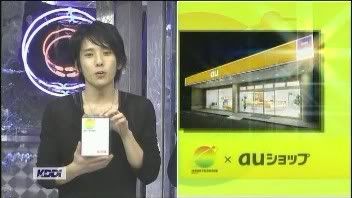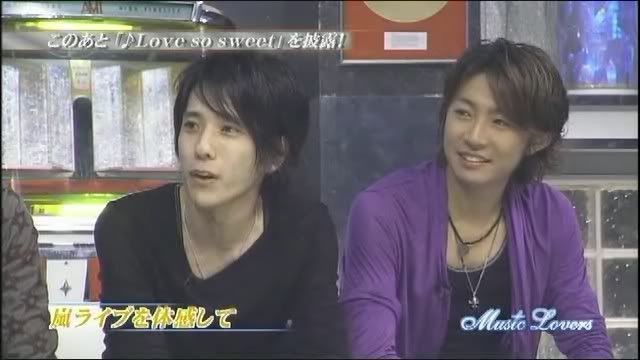 Then it was a very long promotional speech/CM thingie from the hosts and Arashi for KDDI. Which should be skipped because it is like... and the stuff that comes after it is like... I have limited capacity to store words and thus my vocabulary is like... stuff. So yeah, I replace words that I cannot think of with the word 'stuff' and once, I was told off for doing that when I was doing a presentation in class. xD LOLler. IS NINO WEARING A DRESS AND JEANS UNDERNEATH. i SURE THINK HE IS. OMFG OMFG OMFG LIKE SERIOUSLY?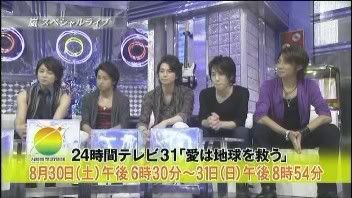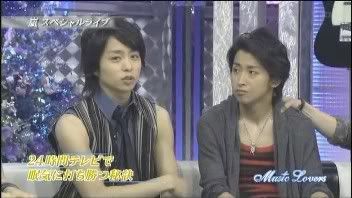 The talk part came up and they were asking Arashi if they have any advice for Nakama Yukie who was worrying if she could stay awake for the 24 hour TV event. Then Ohno was asked about the topic and he said "Surprisingly, it is possible." xD Nakama was then asked of her personal opinion on Arashi. She answered that she thinks that Arashi cannot be without the leader, Ohno. xD She's such a sweety. Ohno gave the biggest smile. She thinks that despite the image, Ohno is actually very dependable. Jun disagreed with the statement immediately. Ohno then said "I was extremely depended upon during lives and before shows." matter-of-fact-ly. Like it is the truth. He said it so well, he would have convinced me the earth is flat and the sun is made of ice. The host dude was like agreeing, saying that "You cannot decided things if your leader is not there..." and then Nino was like saying "Nah it will be decided nevertheless." and Aiba agreed with Nino while shaking his head to the statement of the host.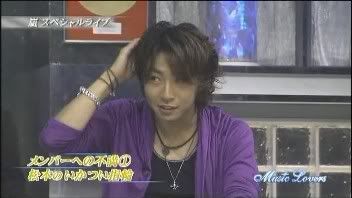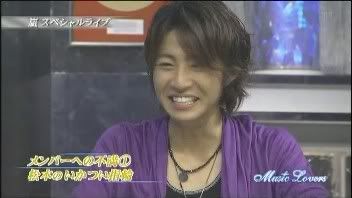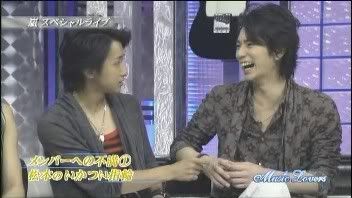 Sho was asked a question "Mention something that you want a certain member to change." to which Sho wanted Jun to stop wearing excessively tacky rings. WORD. Lol. xD Everyone agreed. xD Apparently, it hurts when he hi-touches Jun during lives, when they walk pass each other. Aiba got it worse though, he said he was once tsukkomied by Jun with a large ring on his finger. xD Aiba thought he was bleeding from it. xD Jun asked if he should just not wear rings, which they all said "No" then Ohno added "But please do not increase the size." LOL.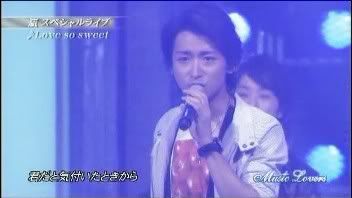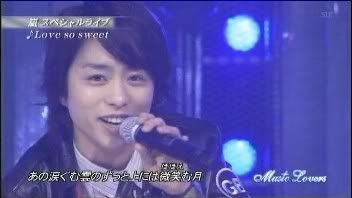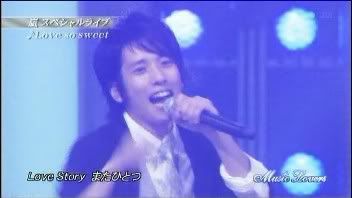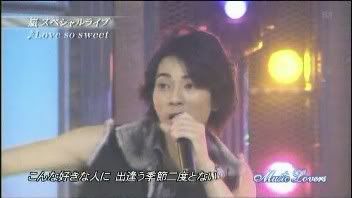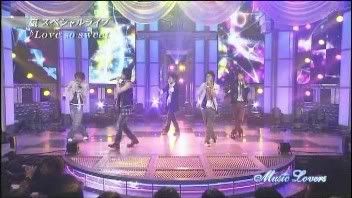 They later sang "Love So Sweet". Then Aiba was asked the same question which was put forth to Sho. Aiba answered "Stop wearing fake jeans everyday". Jun gave a standing ovation to the statement and Sho stood up in protest. Before you know it, they were all standing up for some reason. Aiba then said that Sho wears jeans everyday, but it looks like jeans from afar but if you go closer, its actually those kind of pants with the rubber on top. Kinda like sweatpants kinda thing with prints that makes it look like a pair of jeans. OMFG Like, Sho? Geez, he's an idol. He makes a living out of his looks. Please... wear something less... uncool.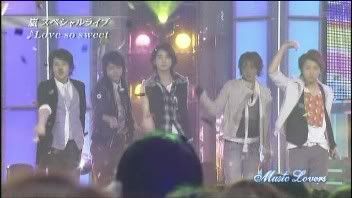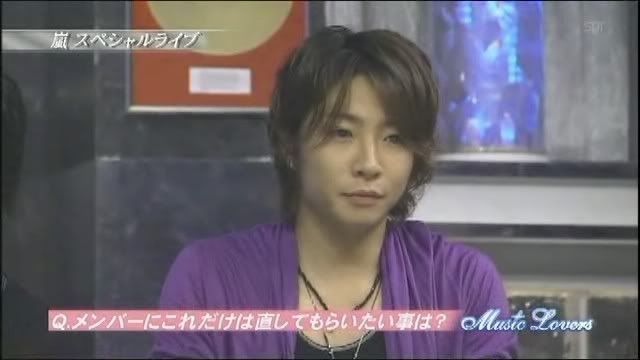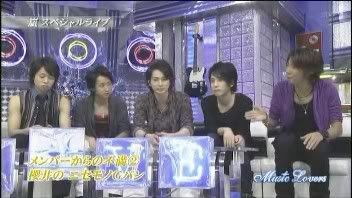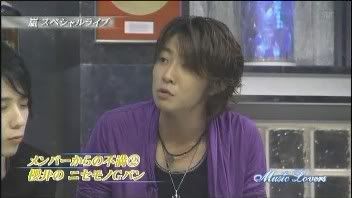 "Kaze no Mukou e" was performed. I haven't seen them singing it live until this show. xD Was kinda nice. Jun and Aiba went into the crowd, stood on a step which elevates their crotch to the crowd's eye level. Fan service. xD They later showed a series of Arashi's AU by KDDI CMs and then a cut-off version of "One Love" was shown. Finally, they brought out Sho's fake jeans and Sho wore it above the pants that he was previously wearing, ever so proud of it.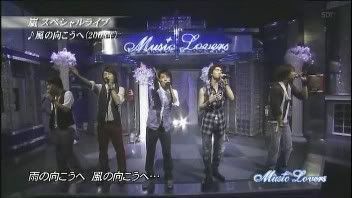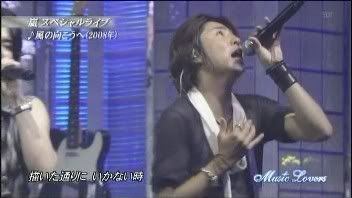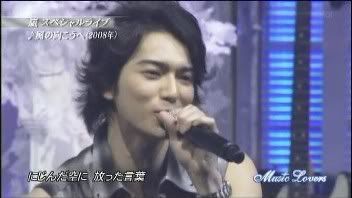 Aiba has a habit of like, stroking his hair, or just brush it to the back when he's performing. I bet he thinks its sexy. It is, but not when he does it so many times. If you get to see Rafael Nadal, in the flesh, everyday, you won't think he's that sexy anymore. Right? If you get Christmas pressies everyday, it won't be that exciting more. It's the same thing.