7 August 2008
This is why I love these boysies. This is exactly why. Have I seen a better episode of Utaban? I don't know, perhaps I like this best because this is new. I don't know. But this is an episode that no one should miss.
=O New realms of hilarity, previously unexplored. xD OMG, so funnay.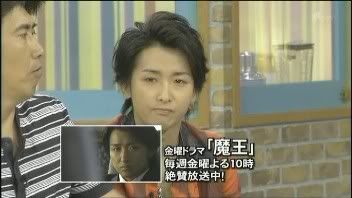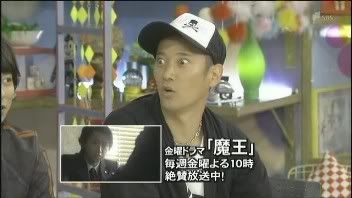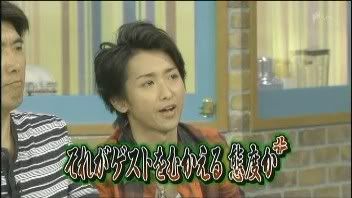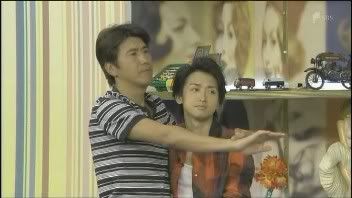 The talk started with Nakai being pissed at Arashi for being 15 minutes late. Nakai was like "Even if they are 15-20 minutes late, we cannot do anything about it if its these people." with a sour face. xD So sarcastic. Sarcasm is my best friend. Then Arashi members were apologizing in the waiting room. Then Nakai introduced them as "The group that can be forgiven even if they are late. Arashi!" in a low tone. Arashi came out apologizing while Nakai was like "Its totally fine, its totally fine." xD Yeah, right. Posers. ALL OF YOU.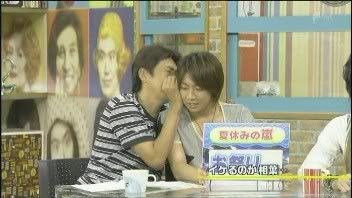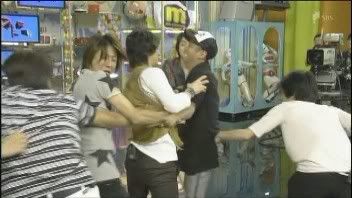 Then Ohno's drama was suddenly inserted into the conversation by Taka-san. xD Nakai then called it "Dai Maou" while flashing an exaggerated stare at Ohno. Nakai then said that all Arashi did was apologize, implying that apologies were not quite sufficient. Then Taka-san was whispering into Ohno' ear, again. The commencement of the war has come! Ohno said, with this snotty attitude... "Is that how you treat your guests?" And so, Nakai sprang from his seat while the other four members held him back. Yet again, I swear, its a freakin' ritual Almost like that cross country relay the Olympians do every time the Olympic games come along. xD Ohno then stood with this expressionless, calm face while Taka-san protectively put his arms around him.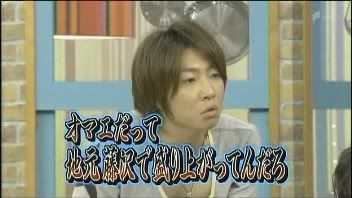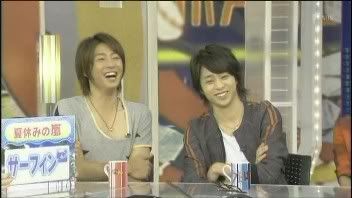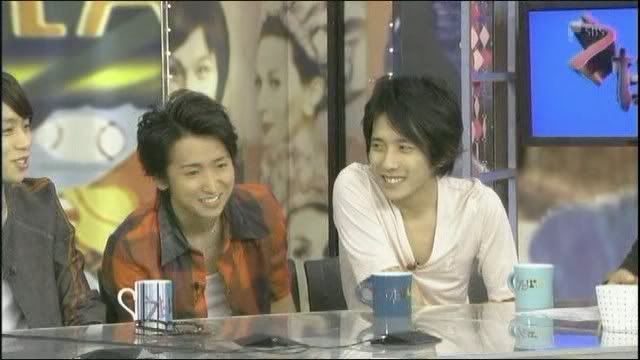 Nakai repeated "That was absurd (or strange/odd)" for like, a gazillion times while the other members bowed and apologized. Then Nakai yakked one and Ohno put in another line to provoke Nakai, saying how the "following ones will be even more interesting." Nakai lunged at Ohno again. Japanese people are really, really funny! Taka-san's shin got hurt because Arashi were wearing boots. Nakai proposed for them to wear sneakers when they go on Utaban.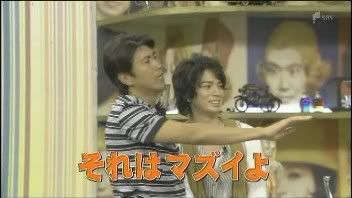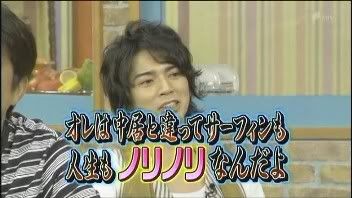 Taka-san proposed that Arashi change their seats for a while. Then everyone got a chance to be the insolent bastard of Arashi. First came Aiba. Aiba is clumsy. Taka-san prefers Ohno because Ohno knows when to annoy Nakai. Of course, he has been doing this for years. Aiba said he will go see the "O matsuri" (in his hometown, or sth.) during the Summer hols, Nakai was like "WTF, that is so not superstar like." And then Aiba was like "BUT YOU were also really excited when you went back to Fujisawa, your hometown." Nakai, faster than a speeding bullet, tried to attack Aiba while the others instinctively tried to stop Nakai. Nakai kicked a chair and the chair hit Jun's leg. It hurt. I can tell. xDDD Nakai in the end said "Well, I think things like Matsuri are actually not bad." xDDD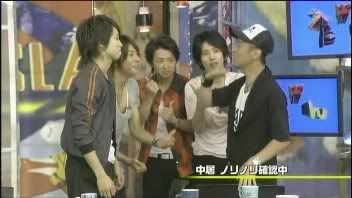 Jun was the next to move into the revered seat. He said he wants to go surfing during the Summer Break. Initially, Nakai said that it was a good idea and that he would like to do that to. Then he remembered that he had to antagonize them. He was like "Wow, that'd be a good idea!" Then he was like "Oh yeah, WTF ARE YOU TALKING ABOUT!" out of nowhere. LOL. Nakai then blamed Taka-san for not reminding him. Nakai was running out of ideas, he was like "Oi, quickly tell him what to say!" (Taka-san, giving Jun ideas about rude things to say.) Jun was like "Unlike Nakai, even with surfing, I can have an exciting life!" (How the hell do you explain norinori?!) And another battle came along.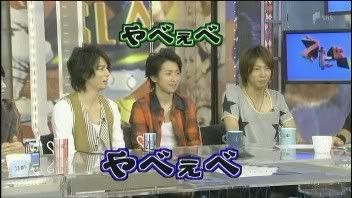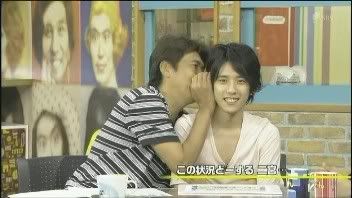 Nino came to the seat next. Taka was like "Changing seats? This is not a freakin' go-kon'!" (Note: Go-kon is a like a group date, Japanese style. You get to meet people there with the intention of dating or banging.) Nino and his whiny voice. Before the fight, Nakai forced Jun, Aiba and Ohno to repeat things like "dabe", "yabe" and "yabeebe" along with him for absolutely no reason at all. Before Nakai finished, Nino was all pumped up to insult Nakai by saying "Why are you saying such words again? Are you a comedian Nakai?" then the battle began, yet again. Nakai was like "I JUST STARTED USING THOSE WORDS." Why do these idiots make a big thing out of nothing? I know its funny, but still, when you actually listen to what they are fighting about, you go... speechless.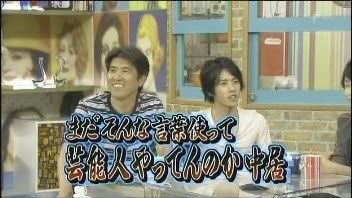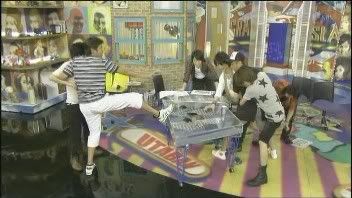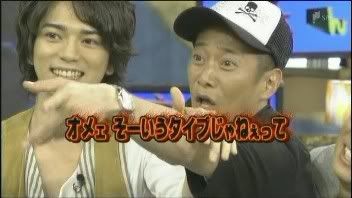 Sho was last. Nakai called him "Zero" and "Jero". What a lame joke. Sho wants to go to a Summer Festival where lots of bands would perform. Sho once went to the after party of a performer that he didn't know after the performance. Nakai was repeated the "Wtf are you doing?!" routine again. Nakai then yakked on about nothing at all, trying to find words to yell. Sho went "Nakai, if you don't have anything to say, just stop it!" And the war continues. Nakai went and found a water gun and then started shooting at Sho.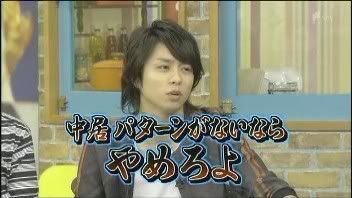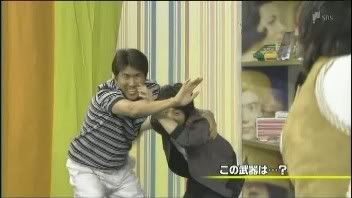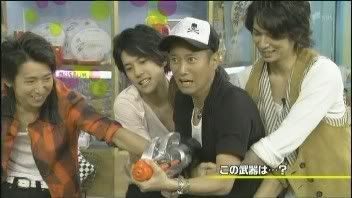 Then they all went back to their own seats and then Nakai was like "Y'all did well but it has to be Ohno" and then Ohno was like "Oh... NOW then you know, Nakai." xD Then the shooting began. Water shooting, that is. Taka-san then threw a watermelon at Nakai and it stopped.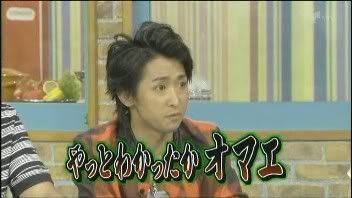 I have to go through this fast cos I spent too much time talking and am really tired after watching the Olympics opening ceremony. It was a brilliant one, by the way. Next it was a game where they have to eat and then remember the things that flowed through. Arashi won all three prizes that they asked for.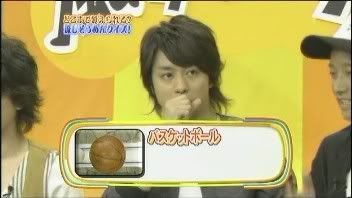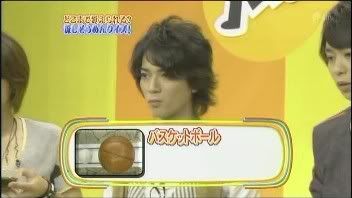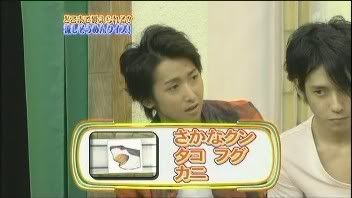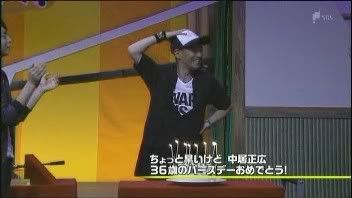 They brought Nakai a birthday cake. Nakai was all happy and then apologized to Arashi for being the childish ass that he is. He was making cutesy faces and trying to apologize. xD They were on the verge of a truce when Nakai wanted to blow the candles but Ohno rushed forward and blew instead. Nakai them picked up the water guns and then chased Ohno all around the studio and then back to the set and then out again. Then the watermelon came and made Nakai stop. Again.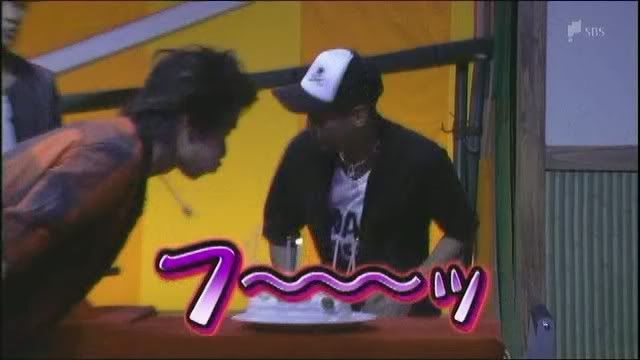 Chaos seems to be Arashi's best friend these days.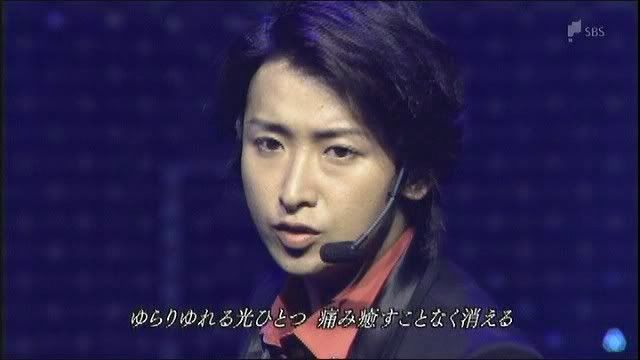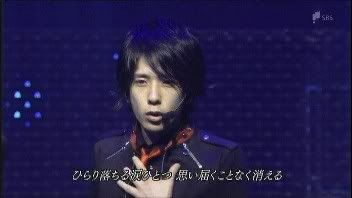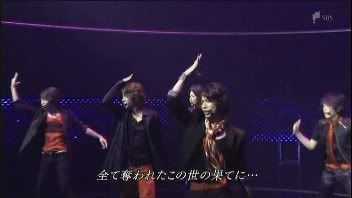 The performance was good, cool. It was a nice song. Yakk yakk yakk. Ohno was sorta like the focus, it was a good song. Can't forgive the choreographer for the part where they pointed forward and then made a square with their finger. WTF is that?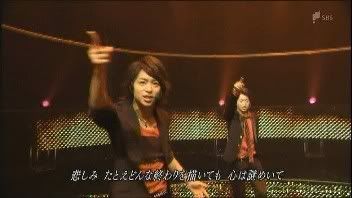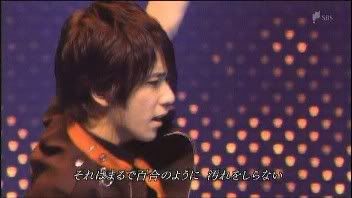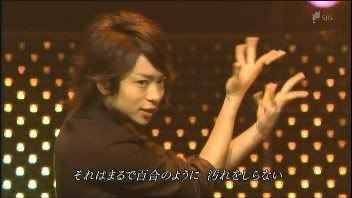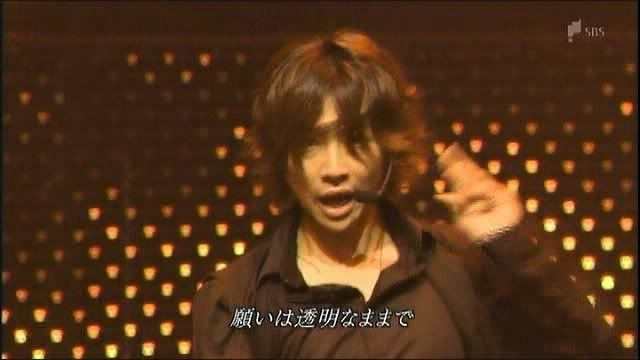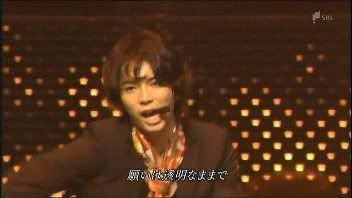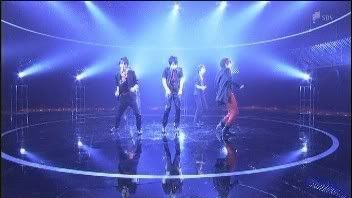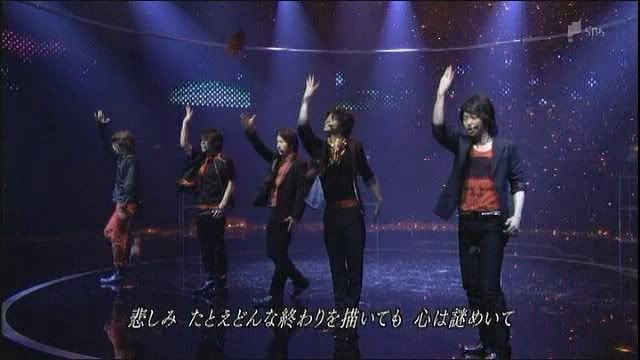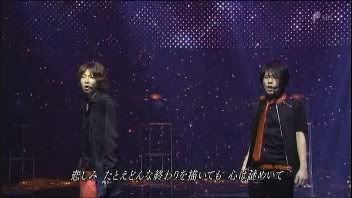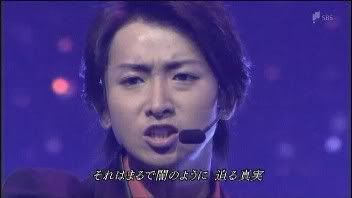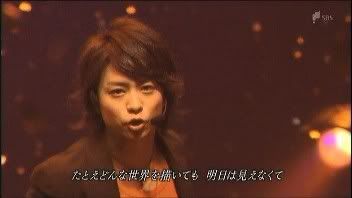 End.
Sigh, Olympics! Excitement! Rooting for my national team that is... NOT Japan. Well maybe I'll root for Nadal for the tennis. That's about all. xD I have a thing for Rafael Nadal. I so could have posted this earlier, but I was having a fever. The Olympic Fever.