2007
Starring: Matsuda Ryuhei, Yamashita Tetsuo, Miura Akifumi, Kitamura Yukiya...
A historical movie about the Choushu Five - five young men who were smuggled out of Japan before the Meiji Restoration (
when it was illegal to leave Japan
) to study in the University College London. At the time they left, the shogunate was at is decline stage and Japan's future was in danger. The five young men later brought knowledge and new technology, thus paving the way for Japan's modernization.
I read a lot of the real Choushu Five (
gotta do research when you watch movies. I don't know, its just curiosity and annoyance when I don't get the movie
.), it turns out that the movie is rather historically inaccurate if my source happens to be right. But oh well, their story makes a great movie anyways. One of the five later became Ito Hirobumi, the first Prime Minister of Japan and was elected 3 more times (
not consecutively
). The other four also became influential figures in Japan's government during the Meiji era or prominent figures who brought great change in Japan's culture. (
Guess why and how trains became such an important means of transportation in Japan. Yeap, one of them was the Father of Japanese Railways.
)
Savvy. Loved history.
Due to the absence of subtitles, I have to admit I have a hard time understanding this movie. And if they were speaking the typical Japanese like the Tokyo folks are speaking now, I wouldn't have such a hard time. They have a funny accent that I really cannot make out. T_T
Ito Hirobumi and Inoue Kaoru went back to Japan first while the other three stayed. Something about warning Japan against war or something. Nevermind that. Nomura Yokichi (
Or Inoue Masaru - why do people have so many names, really
) on the other hand maintained his continuous fascination for trains.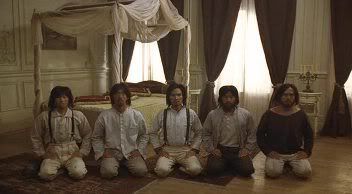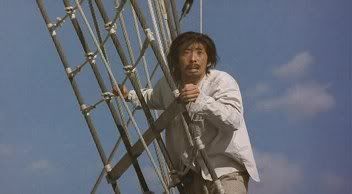 The movie follows Yamao Yozo's side of the story, he's played by Matsuda Ryuhei. Yamao went to live in Glasgow, Scotland for a while, working at a shipyard. Then he spoke a lot of English, so I could understand. In Glasgow, he was all fired up to learn how to be useful to his country, to open up the industrial sector of Japan after Japan's closed door policy has caused the country to be left behind by the Western world in a lot of aspects.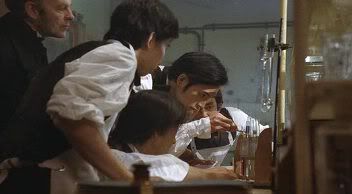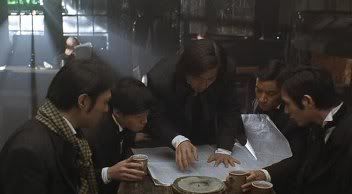 In Scotland, Yamao learned the song Auld Lang Syne, it is said that Yamao is the one who introduced the song to the Japanese. Japan later changed the lyrics and renamed the song "Hotaru no Hikari". Aww and there was sweet romance for Yamao in Scotland (
though how historically accurate this is, I am unsure of
) with a Scottish lass. As a result of that, he set up the first school for those who are share the same disability as the Scottish girl, who couldn't speak or hear. AWWWWWWWWWW.
Yeah, sorry for that. xD I mean, if I were really sorry, I would have just deleted what I typed so clearly I am not sorry for being all excited over a character played by Matsuda Ryuhei. I am not as obsessed as I seem, really. xD Just... you know, I always thought that Ryuhei's head is too big for his tall but skinny body. Like a lollipop! xD I know I need to lay off the Matsudas a bit. xD Its too much eh? Come, I shall go watch Hana Yori Dango dramas again. Wait... Shota is in it. xD (
That was so intentional.
)
Rating: 4/5 (
Oh, my ratings are pointless shit used to remind myself how favourable I find a movie and most probably has nothing to do with how good a movie is or how good the actors are, cos I am sure its clear now that it doesn't quite matter to me. xD
)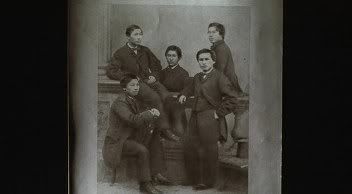 Left, the real Chosyu Five. Right, the Chosyu Five with Matsuda Ryuhei goodness.