26 June 2008
Ah, just as I expected. Not as good as the previous one. Seriously, you cannot top slapping Nakai. But I remember the last time Arashi had to sing a little bit of their debut song on Arashi along with the original choreography. They were rather reluctant back then. Now, they just gained a lot more professionalism. They did it rather willingly and everything, which is good. Arashi also gained a lot of comedic sense through the years, they truly did grow as artists, performers and celebrities.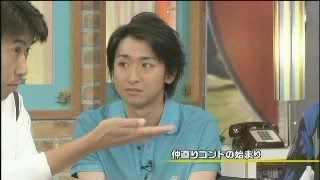 Now, a run through from the beginning. Before Arashi came out, Nakai was apologizing for all the fights and then took responsibility for them. He bowed to the camera and apologized and Arashi was laughing in the waiting room. Nakai also introduced Arashi as "Japan's Top Idols" xD Yeah right. What sincerity you have there. Nakai then asked for a handshake with Ohno and subsequently the rest of the members. So Nakai made nice-nice with Ohno. xD Yeah, right. xD As if that is even possible. They're addicted to the fights, you can tell. Ishibashi remarked that it was a historical moment. xD That's a way to exaggerate things.
Nakai then complained how he couldn't get tickets to Arashi's live concerts. When Nakai was yakking about that, Ishibashi was seen whispering something to Ohno and the two were all laughing and stuff. So Nakai told them to not distract the others. xD He told them that his friend, Megumi is a big Arashi fan, so he made them say something to her on TV. xD Sho fractured a bone. Some yakking about his broken thumb. Nino performed a magic trick. Ishibashi asked if Nino was going to say "Tres bien" if the trick was successful. Nino said no. The cameras then exaggeratedly rushed to film the trick and Nakai faked freaked.
Then the members got to rank members based on certain factors. We learned that Aiba doesn't flush. What a turn off, really. Its POOP for goodness sake. I think it was something about how he got used to auto flushers. And it wasn't once that he didn't flush. 3 TIMES. I am disturbed. So disturbed that I don't think I want to think about him for a while. Aiba ranked which members seem to be more of a horny bastard as compared to the others. He chosed Sho as the top and Ohno as the least interested. Nino was the fourth. Ohno lost weight. There's something disproportionate about his face. I was watching the How's It Going Tour, and that was about 5 years ago. He looked so young and... his face was round and full and cute. Now, perhaps due to aging, his face is... I don't know. Its just... perhaps its because he has no chin. I don't know. He should gain a bit more weight. xD I like his face chubby. From Nino, we learned that Jun is a very considerate person. He would go out to eat the cup noodles when Nino sleeps in the room they shared during the tour. Jun is a good person, really. Perhaps a bit too vain, but he is a good person. When you hear that, its like... awww... Ohno revealed that Nino is the most mysterious person to him. Jun is second, something about Ohno not being able to imagine Jun's room. WELL NOW WHAT DO WE HAVE HERE? Ohno is either hinting that he wants to go to Jun's room so bad that he has to announce it on the show that he is curious about his room OR he is outright lying. xDDD Then Jun revealed that Sho is probably the most unlucky member or something. Sho had it the worst during this show. xD Lol, he got all the bad ones. Poor thing.
After that, Ohno was talking to Ishibashi again and that pissed Nakai off. Then Ohno added oil to the fire by saying "Your TIMING is bad today..." (
referring to the clashing of the conversations that were held simultaneous at both ends of the table
) Yeah, so Nakai's true features showed again and there was a fight again. The leitmotif for the fight kicked in and Nakai rushed towards the other end of the table. Nakai threatened to take off his beanie so that this show cannot be aired. xD Cos he promised to not reveal his bald head before his movie is released. So Ohno was like saying how his movie won't be successful anyway.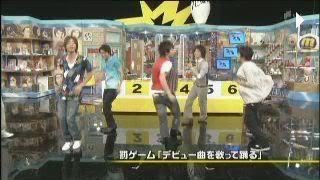 Then there was a game. Arashi lost the first round and was made to dance and sing to A.RA.SHI again. Only on Utaban do they do this ancient dance moves. And they were stopped three times by Nakai to project some enthusiasm into the performance. When Aiba was eating the spicy stuff, his face.... hilarious! xD He begged Nakai to let him spit it out. His actions and his facial expressions are so damn funny, I forgave him of his flushing habits (
or lack thereof
) then and there. Nakai stopped their performance for the first time to make them sing louder, the second to make them skip more dramatically. Nakai lost the second round and had to do an imitation of some freak. Oh well.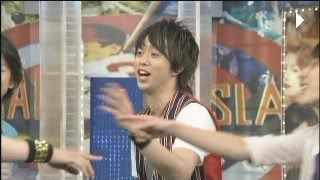 During the performance, Jun's voice didn't go way off. Which is... better than Music Station. And because this is pre-recorded, its safe to assume that this is not their only take. The flowers on their chests are rather different than what I remember. Still they looked great. Everyone had nice hair and they look so sparkly. Still not liking the so-called dance moves.