Johnny's Jimusho. A name synonymous with more than boybands. With it comes screaming fangirls, cheesy songs and last but not least, 'magnificent' costumes that are unique. The fashionistas at Johnny's Jimusho are confident of their manliness, thus frills, glitter and pinkish fluffs are not feared by these boys but loved. When a Johnny's boy is his Junior days, he'd kill to wear those frilly glittery outfits. More glitter = Bigger chance of making it big in the near future.

Though the trend is changing with the turn of the century, groups like Hey! Say! JUMP settled for simpler outfits resembling everyday wear. Bands of the previous generation feel insecure without their frills. (As proven by Arashi's and NewS's adaptation of the concept of complication into their recent tour outfits.) Asymmetrical cuts, mismatched sleeves, weird collars, you name it, they've got it. But from what I have observed, the frills and the glitters and the trainwrecks of costumes are disappearing gradually. T_T NO! HSJ no longer wear outfits that are as horrible as the ones worn by their seniors before them. I CANNOT ACCEPT THAT. Taking away bad outfits from Johnny's is like taking away Pam Anderson's boobies or David Letterman's gap in his two front teeth or like... Ayumi's eyes, Morisanchuu's fat and Nishikido Ryo's evil. It just cannot be done!

The outfits are so bad, they're good. The outfits are so rare and unique that they should be maintained in order to preserve tradition and custom. Glitter, frills and tackiness is the only way for Johnny's! Although anyone with eyes can see how bad the costumes of the boybands' are, I feel that its a unique competitive advantage, really. There's nothing to be ashamed of.

I have reasons for the boysies to keep the frills!

Ayaya, that prissy bitch is trying to outfrill them.
They need attention, they can't sing or dance. The frills and glitters can attract attention.
Japanese culture values tradition. (

Or they should!

)
You can't see the boysies during lives because they are too skinny (

Akanishi is not included in this category... xDDDDDDD I just had to. LOL.

) Glitter helps fans spot them.
Glitter sparkles reflect light, thus distracts the viewers from the big zits on their pretty faces.

Simplicity is for losers.

If YOU aspire to be a Johnny's boy, you have to get used to wearing blinding colours and carrying 10 kilograms of useless stuff on your outfit. This is YOUR guide on how to dress like a Johnny's boy and enjoy it.

Things you need for costumes:

Glittery stuff
Useless frills

Feathers - preferably fake, you don't want those activists from PETA out hunting for your celebrity ass

Accessories from hell (like... roller SKATES, big-ass rings, boas... and um... tablecloths. Maybe skirts...)

To garner confidence, you need:

Protruding ribs - as a result of being too skinny.

2% body fat - you have no idea how hot those outfits are, anyone with lotsa fat will faint from the heat.

Flawless hair - you just need it, makes the glitter savvier.

Cheesy songs - like the saying goes... "You cannot wear glitter without cheesy songs~" (

I sooo made that up

.)

Quarter of a brain - Because... its a Johnny's thing... It all started when the infamous president of Johnny's Jimusho started choosing stupid boys so that getting them to perform services would be easier. Then it just... became a trend, really. Stupid is the new coolness.
So, please! Keep them frillies and glitteries.
I shall mourn if I have to see less and less of them.
Johnny's Jimusho redefine the meaning of tackiness and challenge the extremes of glitter.
I salute the designer(s) responsible. You are a hell of a tasteful colour-matcher.
When more than one group comes together, you get to see a plethora of colours lined up together. Ah... you might confuse them for corals. xD I just noticed that the skirt/tablecloth was not popular until circa 2006. xD Savvy. Gah I am tired of screencapping. Bleh, and I initially intended to just lay back and enjoy the glitter of Countdown. xD
Below, from skirts, to blinding colours to colour-mismatching to outfits that just make you speechless with a combo of not only all those mentioned above but savvy collars and frills and glitter. The best of Johnny's costumes.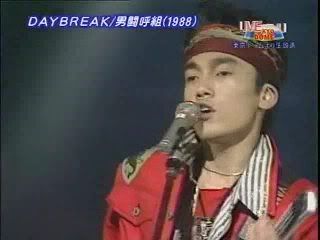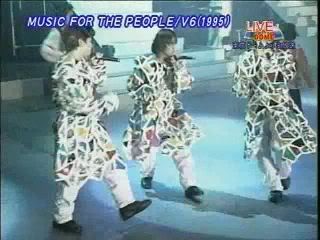 Above: Fashion trainwrecks have been around in Johnny's since before I was born till today.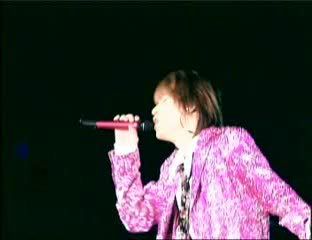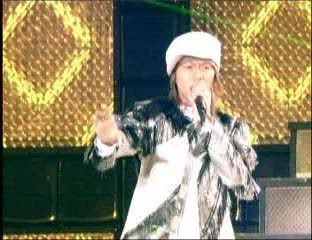 DoKo loves pink glitter.// Morita mixes cowboy with glitter and hip-hop.
Even bad outfits cannot tint the perfection that is Okada.// Making the boys easier to spot amongst the fans and the blinding lights, glitter is useful.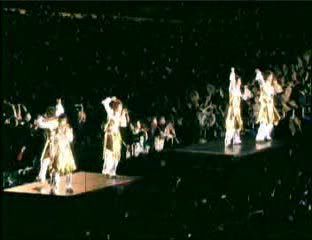 Clockwise from top left: Arashi jumps out with the help of sparkles.// V6 has wings.// Morita go... something alien is attached to his back.// V6 loves glitter of all colours.
NewS... random cutesy stuff attached to their outfits. That, and fluff.
Men who wear pastel colours are confident with their masculinity.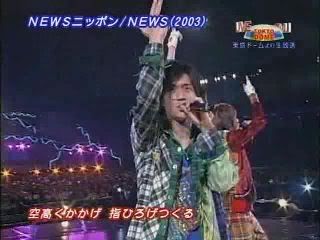 Subaru practices mating calls with the feathers attached. Nishikido Ryo loves bedsheet material.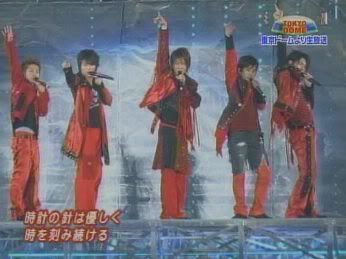 Aiba from Arashi loves skirt over pants.//V6, sparkles all the time.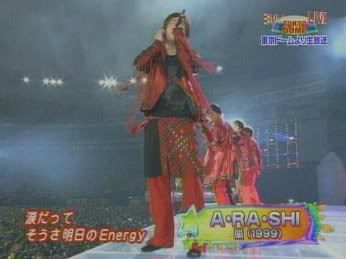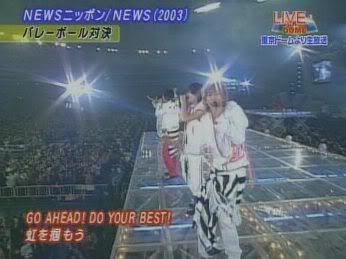 A clearer version of Aiba's skirt.// Koyama's table cloth incorporates zebra camouflage.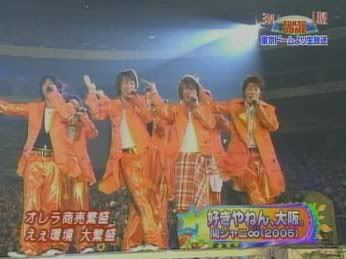 A sea anemone puked on Yamapi.// Spot the skirt wearer in Kanjani8.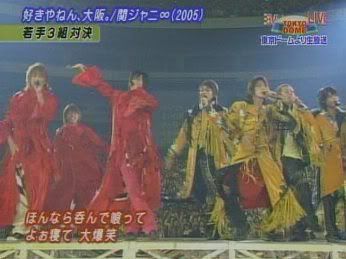 Nice blend of colours.
Ueda and DoTs promote men skirts.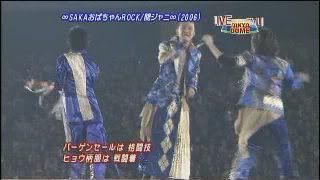 Subaru joins in the skirt promotion.// NewS... a perfect combo of frills, glitter and um... more glitter?
Never has the world seen more glitter on men.