16 June 2008
Guest: Edo Harumi
Hollywood stole me away for a bit. I know... what a disgrace on my part... not that I have sworn off English movies... xD Just got a bit too intrigued by them.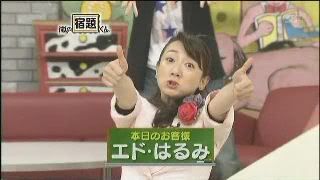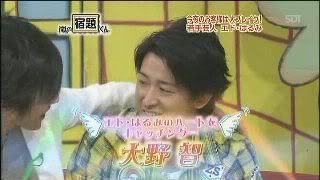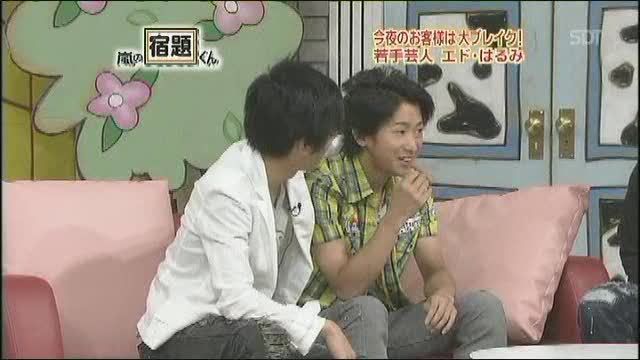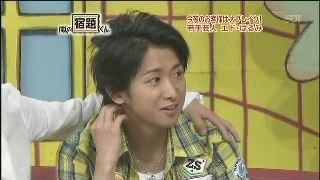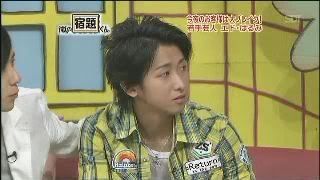 Anyways, the guest is time is Edo Harumi... that "Guuuuuud" lady who seems to be the new Kojima Yoshio. You know, comedians don't stay popular for long. She is the IN thing right now. When asked about her favourite in the group, she said it was OHNOOOOOOOOO. YOU HAVE NO IDEA HOW HAPPY I BECAME! I thought it was going to be Jun again. Since like... everyone likes Jun. Thank God! Variety for once~ but then didn't Sakai Noriko said Ohno as well and Harisenbon said Nino? xD Well nevermind.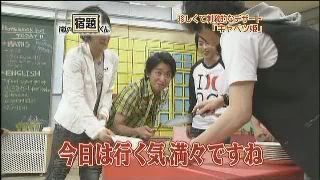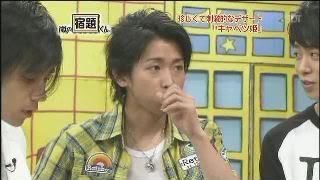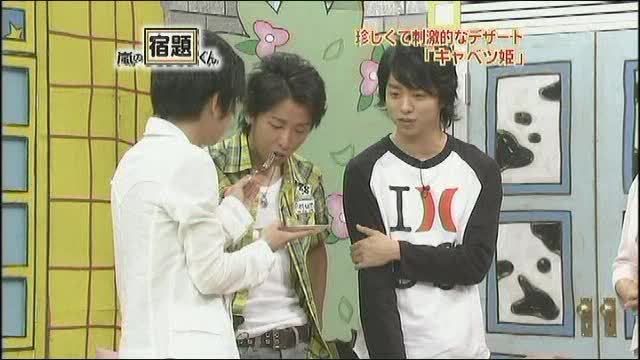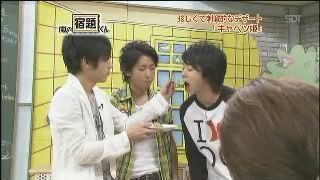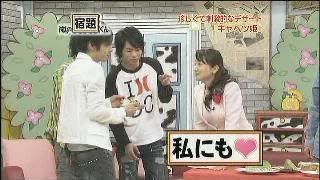 xD When Ohno was so participative in the cutting job that was usually done by Jun... xD He looked so funnay. Then Nino started to feed Ohno, then Sho and then Edo was lining up waiting to be fed, acting cute like a puppy. Then Nino had this disgusted look on his face. xDDDDD Rudeness. Then Jun did the "Guuuuuuuud" thingie as well. xD I like Jun's hair. Reminiscent of his "Kimi wa Petto" days. Can't say the same thing about Aiba's hair though. Don't like it at all. T_T Poor thing needs more love. Though he is getting enough from Aoki Sayaka.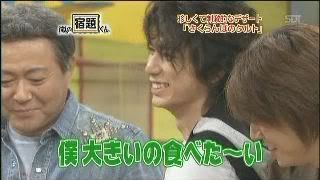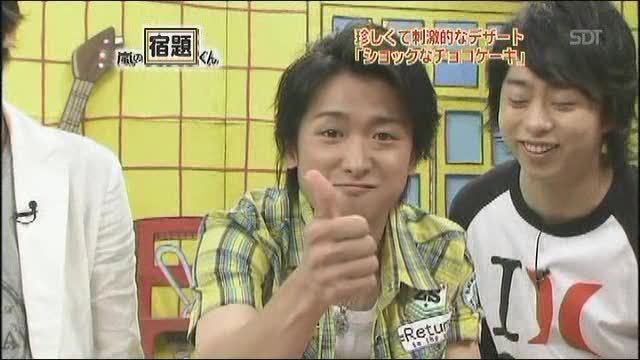 Then Edo was cutting the Cherry Tart (
even though she was a guest...
) and then Jun was like "Mommy, I want a bigger piece!!" xD In a very... what do you call it? Umm... 'amaenbou' tone. Then Edo was like "Yes, yes... Jun-chan!" xDDDD Omfg role playing started spontaneously. Then Sho imitated Jun... Aiba then picked up only the cherries and ate them... they all had shrunken minds... hence the retardedness. Poor things. xD Must have got their brains eaten by Hannibal Lecter. (
Yes, Hannibal the Cannibal has the tendency to eat brains. He can do craniotomy perfectly.
)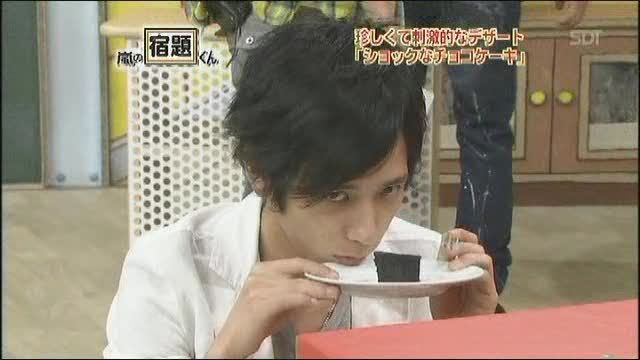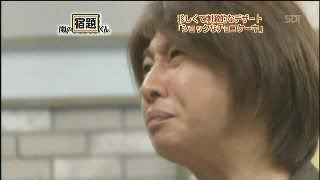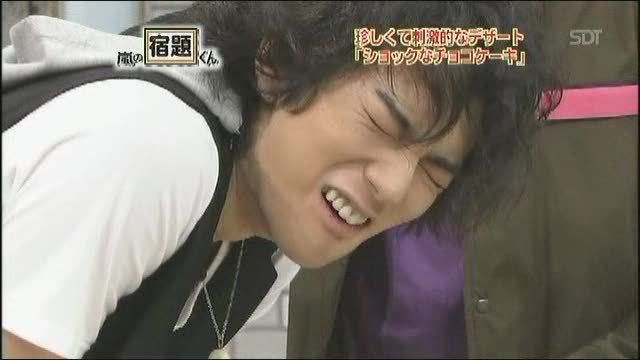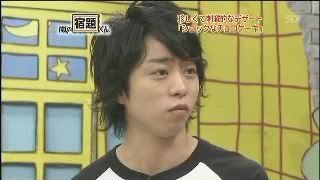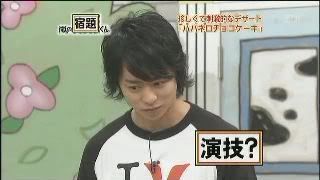 Then it was the spicy chocolate cake. xD Nino looked cute sniffing the slice of cake and Ohno did the "Guuu" thing. Aiba and Jun made ugly faces upon tasting the cake. Then Ohno tasted it... spicy too. Then Sho the idiot tasted it... wasn't spicy. xDDD Then he asked if he was weird. Jun made a face and said "Yes, you are weird."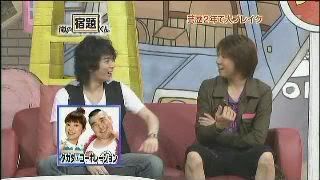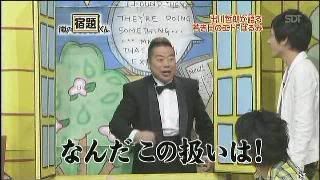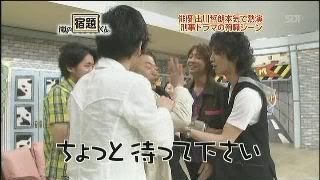 They asked Degawa to appear later because he knew Edo twenty years ago. Nino opened the 'window' and then the idiot started to make lots of noises and so Nino closed him up again. xD Nino rules at being rude and have his rude actions strangely well-accepted. Then poor Degawa had to be shut off during question intervals. He then was allowed out of the window and into the real set to give a few 'lessons'. I would prefer to not go into detail with the lessons because its just pure crap. But Arashi's coordination is great, how they all rushed up to the man. But its most likely pre-planned though. If not, it would be great.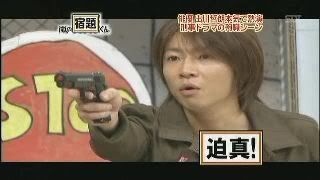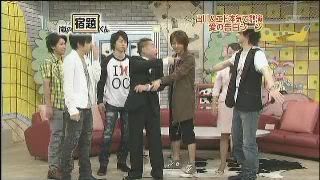 Degawa, the rat then tried to kiss Edo in the name of 'acting'... was, of course, interrupted by the nosy Arashi members. For all you know Edo might have been looking forward to it. xD Though I am not sure how one can be when faced with Degawa. The hot thingies came out again, a special treat for a special Degawa, especially from Arashi. Then they abused the poor man. Aiba was truly enjoying the task entrusted to him. Yeah, but he was the shadow instructor wasn't he? This is stupid, obvious and hilarious. I cannot quit Shukudaikun, ever! But he hit Aiba. Frog. T_T They should stop hitting Aiba, its not like anyone would hit Jun or Nino.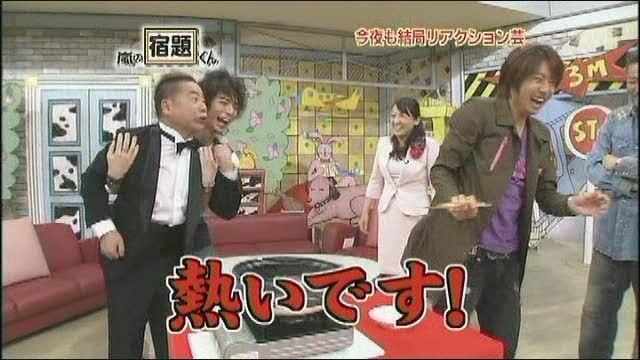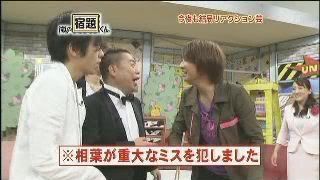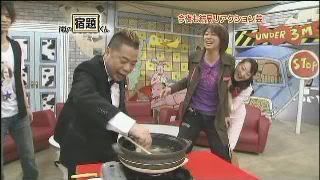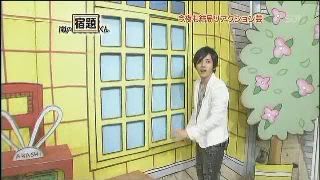 Degawa forcefed a tomato which Aiba spat out at Degawa's eye. xDDD He then was insulted by Arashi~ and headed out through the window he was appearing in a while ago, never to be seen again. At least for this episode. Then Edo demonstrated her exercise and did it with Arashi.