[Still on a hiatus. xD Couldn't resist a bit of Arashi though~]
Its a good song, I think I am starting to be addicted to it already. However, its not very Arashi, this song. I have to say. It sounds more like KinKi Kids. Yes, actually these boybands all have their own style. And this is not very Arashi, but it happens sometimes, when they depart from their style a bit.
Its the theme for Hana Yori Dango ~Final~ isn't it? Just how many spawns are HYD going to throw out, really? Perhaps one success followed another and producers figured they'll milk the cow dry and drain the blood as well?
I don't like the video though. Its about time Arashi throw out a video that I like. Haven't liked one since "Happiness". They're all so... CHEAP. T_T Why?! I guess this single will sell. Its... like... HYD. Remember "Love So Sweet"? Ah but I do wish for Arashi to have at least ONE million seller. To think their debut single came so close to it. Its quite a pity, really. Though almost a decade after their debut, it seems that chances are pretty thin, I'll still keep the faith. (
I made no reference to the song by their fellow boyband... or did I?
) Anyways, can I go on and on about how good the song is or should I talk about the PV?
As if it isn't obvious enough, I shall state again that this is my favourite Johnny's group. And I know that its their friendship that brought about hordes of fangirls. But I am getting sick of how people keep gushing about how close they are. I hate that that is their selling point right now. I hate that they are even showing that in the video. Yes, I get it, you are closer than guy friends normally are. NEXT please. Its like Kanjani8 and their sense of humour. I get it, you are from Kansai and you are funny. Please, tell me something I don't know. And the worse part is that they are overdoing it. Ah but I won't like to see a lack of it either. (
I have to admit that it did make me happy for a bit among all the exam stress. Even if its that intentional display of friendship.
)
I am confused. Nevermind me. AND WHY THE HELL DID THEY LET MATSUJUN SING?! Does anyone not see that the man cannot sing? If I were there, I'd gag him and make him stand there looking pretty and perhaps have Ohno spank his asscheek. Left asscheek. Its sad that I am not the director. ;-)
What? A girl is allowed to imagine.
OMFG just as I finished the previous line and I went back to watching the video so that I can find more love, MatsuJun sang the bridge part. I almost got the freaking shock of my life and suffered cardiac arrest then and there. It just... came so sudden. So sudden.
The lyrics go on and on about "I love you..." and how that is the one love in the world, "If I have you, I don't need anything else". Yeah, okay, like every other guy who is courting a girl has not said that before. Corny~~ So very corny~~ I cannot stand corniness. I just... but the melody is very my type of song! Its very... like... I don't know... does it not have a Chinese ring to it? They paired Ohno and Jun up in the beginning again, just like in "Love So Sweet". Yeah... sweetness. I bet its because its the theme to Jun's movie and they let him choose again. Sneaky you Jun.
Basically the video comprises of all things pretty - blue sky, pink flowers, bubbles, migratory birds, MatsuJun's eyebrows, Nino's shorts, Nino's girl legs, Ohno's black head of hair, Sho's front teeth and Aiba's squeaky voice.
Ugh, that last bit where the singing stops and the boys were posing around. CAN YOU BE ANY MORE LAME THAN THAT? Sho tapped on Aiba's shoulder and pointed towards the neverending horizon. I think I need to call the Korean Directors' Society, I think someone just outcheesed them. Okay, maybe not.
OMFG is that a wedding cake at the end of the PV? Just shoot me, really. (
Not literally, please don't, I value my life.
) A wedding cake made from clouds and birds flying through holes in the cake-cloud thing. Savvy.
And the effect throughout the video, the paint effect. Me no like. I would have to assume that the cake has something to do with HYD the movie? Cos no way in hell I will accept that cake in a PV if it has got nothing to do with it. BUT, oh but when the boys stand in a line... finally by height! I always thought it would look better this way but they always placed MatsuJun in the centre. T_T As if Aiba is not good enough? He's as good as every other member.
Really, seriously! Its a whole lot of fake happiness and clouds and flowers and birds and all things wholesome and nice. I think I am going to gag. Its too much happiness for me to take in.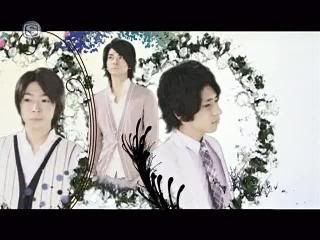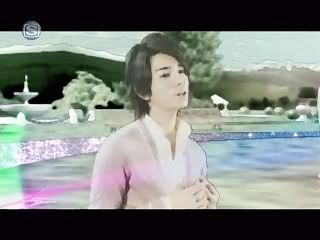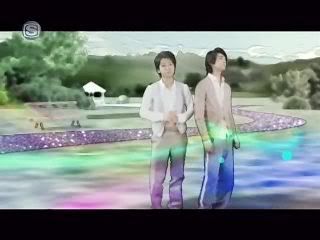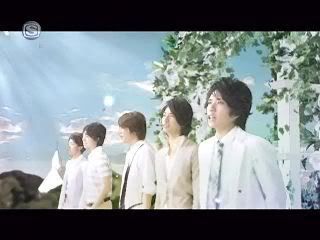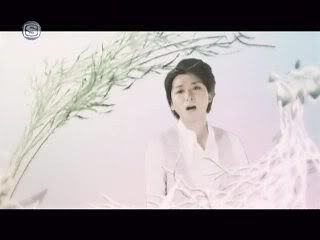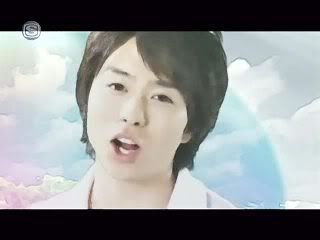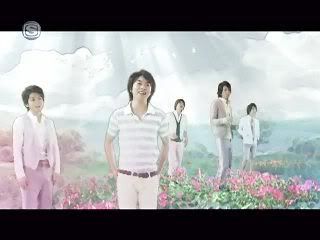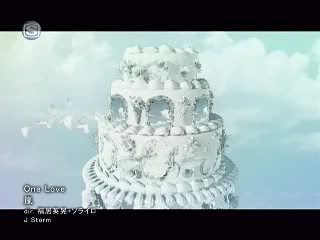 P/s: That Jun is really good at mindfucking you through the camera. Seriously. I bet he practices at home.