9 February 2009
Guest: Oshikiri Moe
One of those models like... Hasegawa Jun and Karina, but older. I like it when models go to the show. It makes the show very... picture-perfect. But lusty comediennes will do too. I have been waiting for a long time for Aoki Sayaka to go on. I mean, for once, I'd like to see someone lust over Aiba since... Shizu-chan of Nankai Candies. Well, it is not like Ohno has been lusted over yet. xD But isn't it strange that models in Japan are all so... short? I mean, she is shorter than Sho. That' is like... short. I always thought you have to be like... tall to be a model.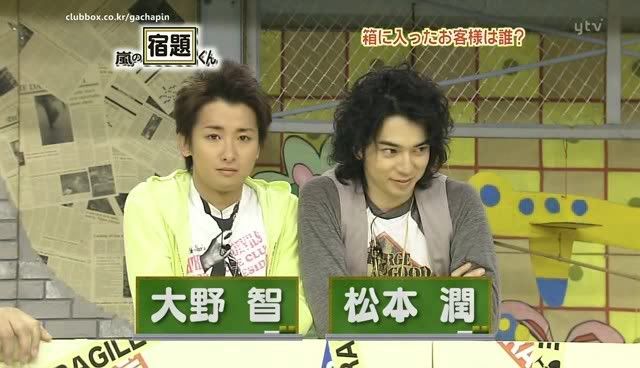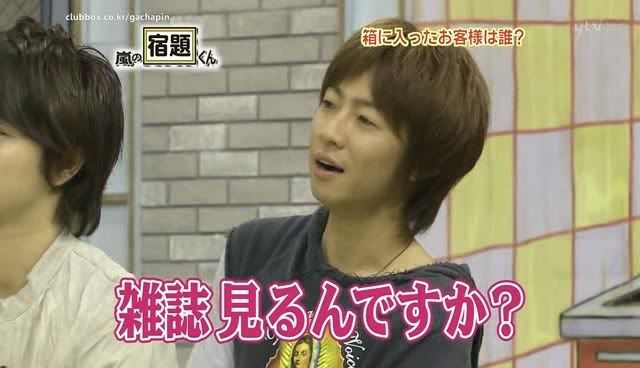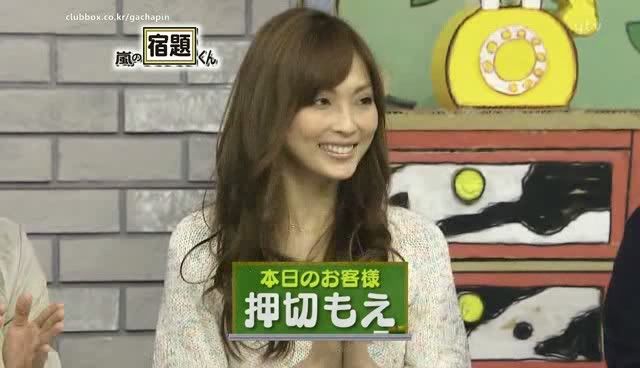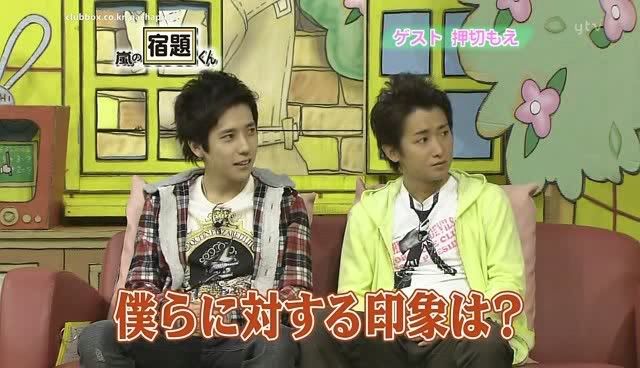 I... Nino's hair... very... nice. Jun's too. xD I like. Very much. (I can't get enough of the two of them in this episode. xD I ended up making too many screencaps. Had to delete about... 300 of them... xD) When asked of her impressions of Arashi... of course, she said that they seem friendly and stuff. Then Jun turned to Aiba and said... "We're friendly, right?" and then Aiba was very complacent and said "Yup, yup, we share em', pants." xD Sho then asked if the models talk about Arashi... (Seriously, how much do they like to hear about people liking them? And to think that they are asking it so straightforward like that... xD Ego, it is the ego, it is growing.) Oshikiri was all "Sometimes..." And then she said her favourite is Nino, because he seems 'deep'... that... uh, I agree. He seems the most mysterious to me. But that is just me. Nino seems to be popular among models... Sada Mayumi said he's her favourite too. xD Jun is popular among old women and comediennes. Sho's popular among people who likes muscles and brains. Ohno... popular among weirdoes. xD Aiba... uh... you know? I am not sure. Probably among experimental people. You know? Okay, nvm.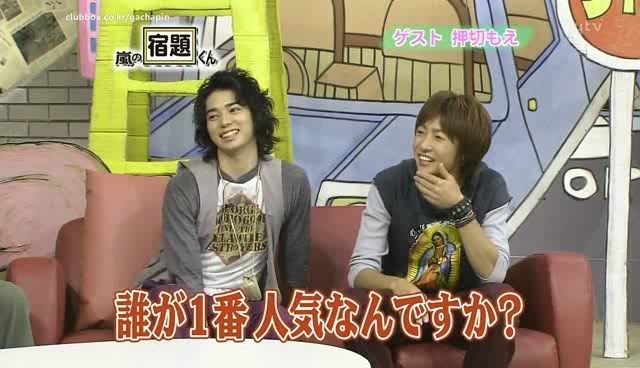 When Oshikiri said Nino seemed deep, Aiba went... "He's shallow, really shallow!" and Sho was all "You are the one who's the most shallow!". SO TRUE. xD Oshikiri asked for food that gives a funny feeling in your mouth - texture-wise. Sorta like... uh... jellies and stuff? I don't know. The first one was a cake and when Jun was about to cut the cake, Chan-Ogu was all "I'd rather have Moe do it..." Jun got excessively pissed off and was looking at his clock, indicating that he wants to leave. Or something. Chan-Ogu had to apologize. Now, I am pretty sure it was a joke to make the show more entertaining but Chan-Ogu shouldn't have had to apologize. xDDD Even if it is Jun. xD What a princess. Gah. The cake was cut, Sho, Ohno, Aiba and Oshikiri put their cakes together imitating a clashing of glasses (you know, the cheers-type-thing) and said "Happy Valentine's Day". Seriously... it is cake, you know? Not wine. You don't really have to.
When a chef was using liquid nitrogen to make the dessert-type-things, Arashi felt the need to bring up their past experiences with liquid nitrogen during the A no Arashi corner. They put various crap into the liquid and observed the transformation. It was very nostalgic. The moment the liqiud nitrogen was mentioned, Nino was like "There it is... the liquid nitrogen which Mr. Aiba loves so much..." xDDD Then Aiba gave the chef a thumbs-up and got very excited with the sound of stuff being dipped into the liquid. Oshikiri was all "Oichii" and of course, the men were all "So cute" and then Sho imitated that and it all ended up an epic failure. Yeah, Sho won the janken battle for the other glass and managed to say "Yatta" probably promoting his film. Nino announced the date it opens and all.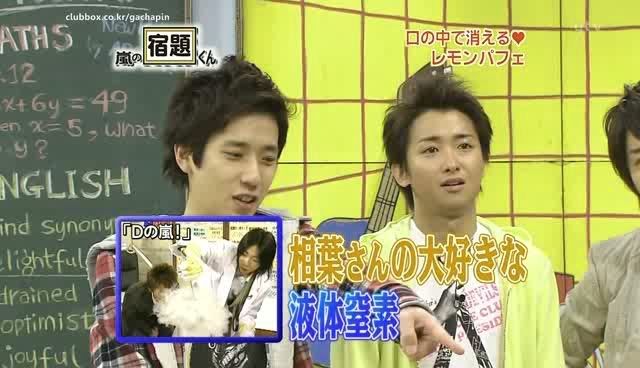 When Aiba tasted the dessert (the third one, where strawberries and strawberry-flavored jelly was dumped into liquid nitrogen), he said that he has tasted it somewhere before. When asked where, he said 'grandma's house'. Nino then wondered if the entire family plays around with liquid nitrogen. xD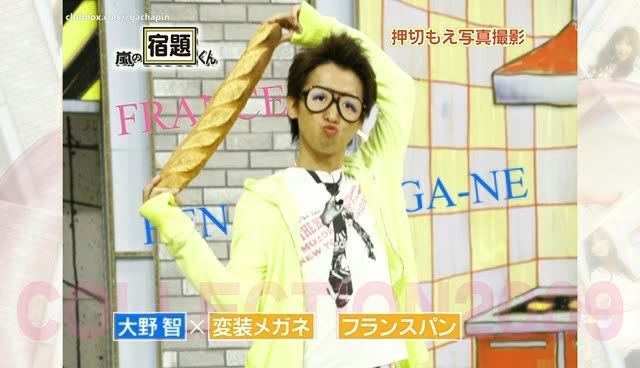 They later made her pose with a kettle and many other crap. Of course, when a guest does it, a member of Arashi has to do it to. xD Ohno did surprisingly well, modeling crap like that. xD Screencaps tell the story. Even the cameraman was all LOL. xD
It turns out that Oshikiri can spread her legs and do a cartwheel, they made Sho do it. xD The atmosphere got a bit strange afterwards.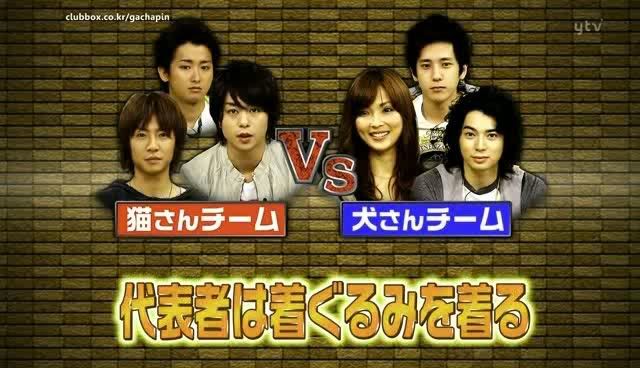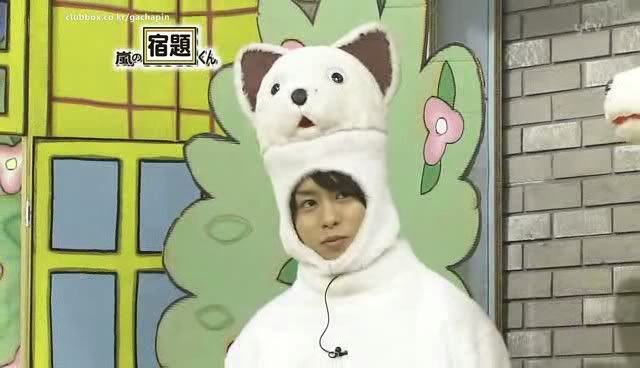 Aibaland was... strange. Oshikiri was dressed in a dog costume while Sho in a cat costume. Nino and Jun were on Team Moe and they wore dog-ears (they gave the guest the two with brains... it is no wonder they won, really) while Ohno and Aiba wore cat-ears. Very adorable. The Japanese way of imitating cat's meow is "nyan" and dog's bark is "wan". They had to say various phrases with "nyan" and "wan". Obviously, Sho's team lost, even after a rematch.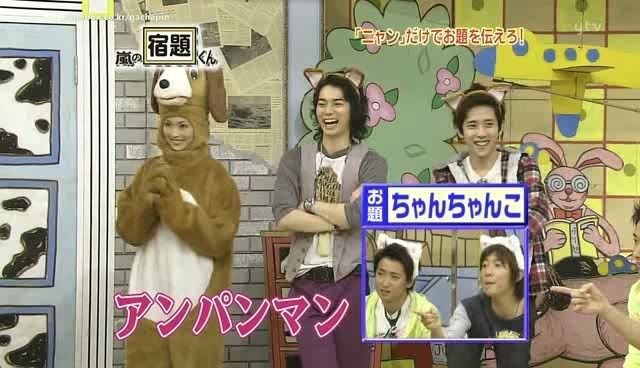 Odori will appear on the show soon. This comedic duo is appearing EVERYWHERE. The dude in the pink vest is VERY annoying. At least for me.