Because I am a bit lazy and I am not in the mood to watch anything new because they're all KAT-TUN related and it is just not as funny to diss them anymore. Because that would mean I have to watch them. I am trying to get into my holiday mood and not watch annoying things.
My Arashi show marathon made me feel all sorts of smartness because, anyone would feel smart as compared to these people. Rewatching is good for health. And my PMS makes me want to burn all the uteri on the planet. Well, of course, that would be the end of mankind.
And I have arrived at the many Odoroki no Arashis. Sho is the king of obscure boating.
Odoroki no Arashi 1: Cardboard. So smart, these people.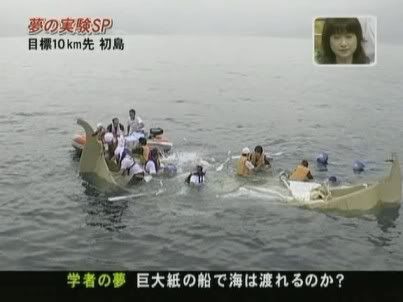 Odoroki no Arashi 2: Block of Ice. Big, but apparently, not big enough.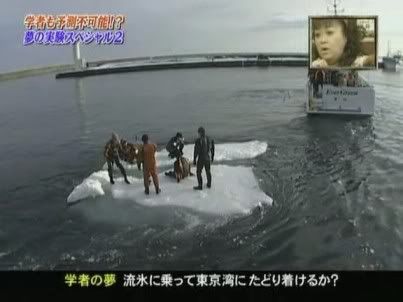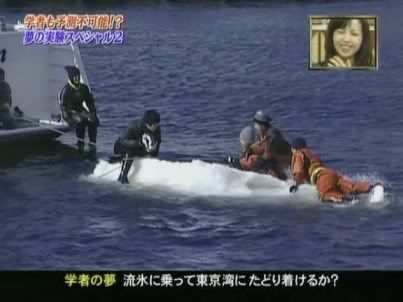 Odoroki no Arashi 3: Leaves. Big, green ones. A very ugly shade of green.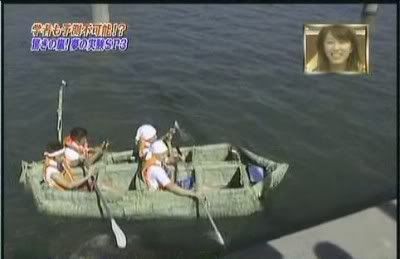 (If anyone intends to ask "Where is the boat?".... DON'T.)
Odoroki no Arashi 4: Hay.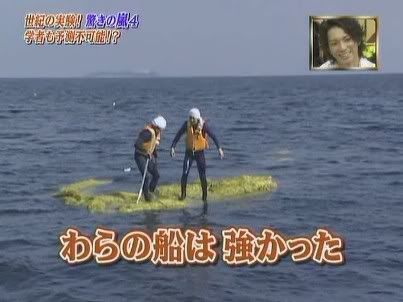 Odoroki no Arashi 5: Konbu/Seaweeds. Coming very soon. We fear.
It gets funnier with every installment. Really, Sho's skills are improving. I actually fear what might come next. Because during the 4th time, my tears were flowing from laughter. Literally. I seriously think that they are avoiding success for this corner because... what would they do for the next Odoroki no Arashi?
And this explains why I get really, really dumb everytime I go back to classes after my summer break. And I probably will consider going amok if someone takes my Arashi collection away from me.
I tried describing these experiments (Odoroki and A no Arashi) to my parents numerous times, and they never seem to find it as funny. They have to watch it to get the same effect. The problem is, the stuff I have are not subbed. I don't really feel like finding the subbed ones. It will be a long process.
I am so determined to get my parents to like them like I would try to get them to like my boyfriend. I mean, this is NOT my like past obsessions of Gackt, Dir en grey, TVXQ or Orlando Bloom. This is Arashi, they are comedians. They are funnier than professional comedians that they will put them out of work. My parents love comedies. And, you know? I can use daddy's credit card to buy all sorts of Arashi stuff if my parents can get into them. Gosh, I am like, a freakin' genius, just like Aiba. No?
P.S. I watched (not entirely intentionally) HSJ doing their new song about bois with shadows. Is it me or are these pre-puberty bois trying to be sexy? Please let it be just me, or the future of the world is doomed with the new generation of humans and their definition of sexy.