28 December 2008
I am amazed and moved by their success. It is kind of like... "Heh? They're that big?" I didn't know that only one group can perform in the Kokuritsu Stadium in a year and they got to be that group. It must feel very rewarding for them. I am glad that they didn't feel like they're too big to be stupid. *Gets reminding of Aiba's Mirrorman which WILL be talked about in detail on this blog later.* I just watched Odoroki no Arashi. Just when you think that they're losing their stupid, stupid came back to them. In a big way too. xD I hope stupid can appear more often, really, but I guess just once in a while is fine. I mean, SMAP isn't above being stupid, Arashi sure isn't as well. xD I love them Johnny's, probably more than anything I will love in the next few years. Well, if a boyfriend happens to appear soon... I'd put my Johnny's above him UNLESS he showers me with Johnny's goodness, then I might reconsider. This is when you should laugh.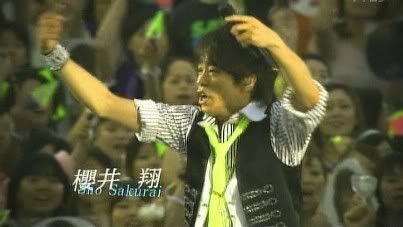 There are certain pros and cons to your favourite group being big. I kinda like that they have the success that they so deserve, but then when every other person is a fan, you kinda feel like... what is it a trend now? And it kinda turns me away a bit. But... I guess these boys are too much fun for me to even look away for a moment. I fear that they are at risk of overexposure. It is a killer.
They basically were talking about their thoughts about the tour around Asia. From Japan at the Kokuritsu Kasumigaoka Stadium, they went on to Taipei Arena and the Seoul Olympic Stadium and then another venue in Shanghai which I don't know what to call it in English. In Japan, for Love So Sweet, they boys were goofing around... attempting to fly and stuff like that and Ohno said he was very embarrassed. xD This coming from Ohno, who would've thought? In Taiwan, the fans were really hyped up and excited. In Seoul, they changed the lyrics of "Kansha Kangeki Ame Arashi" to Korean, which was great. I am very happy that they took the initiative to localize their songs. Very good marketing strategy. They're the first Johnny's to ever perform in Shanghai. They look so straight when they're talking seriously like that. I am having doubts about my theory on their personal relationships.
The DVD for this tour, I can't wait. If there's one for every place they went to, I am going to just... get them. I am 100% it will be great. I am quite disappointed with TIME actually. I prefered AAA 2006. But this... will be something else. I WANT IT. I WANT IT. No... I need it. Kinda like how I need Music Station Super Live 2008 which isn't surfacing anywhere yet.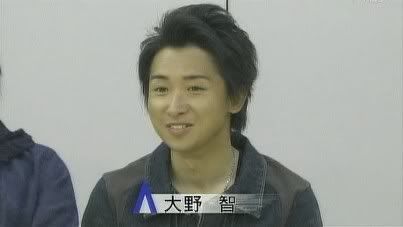 Of course, these people have yet to spread their influences in Asia as wide as Tohoshinki has, BUT, I find them more entertaining. They're colourful. Sure, they don't dance as well or sing as well. But it is the overall entertainment value that they triumphed over the other groups. OR, I might be biased. But... ah... they have guyfans now. I like that. I spotted more and more guys in their audience in VSA and in MSSL, the guys were also clapping their hands excitedly. xD A bit strange, but hey, it is all about variety.
This stage report, I enjoyed it a lot. They show snippets of all my favourite songs. Well, not all. Okay, rephrase. ALL of the snippets of performances shown were some of my favourite songs. It makes me remember that... "AH, right, I forgot, they can be cool too." xD You forget, sometimes. Especially when you have just seen Mirrorman in action. Or... that boat-rowing thing. Ah~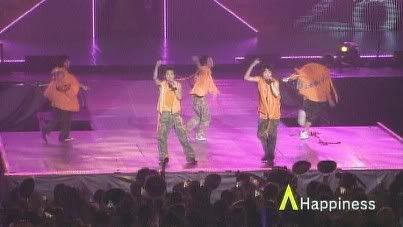 They will be on the next Shounen Club Premium - all of them - to talk about their history for their 10th anniversary. We will catch it as it airs. I will be camping in front of the TV. I am not sure about Japanese time, you see. It is either an hour faster or slower. xD
Everytime I see a live performance of theirs, I knew that I didn't pick the wrong boyband to fangirl over. And that, I am confident of.
Guess who I spotted in the crowd of audience?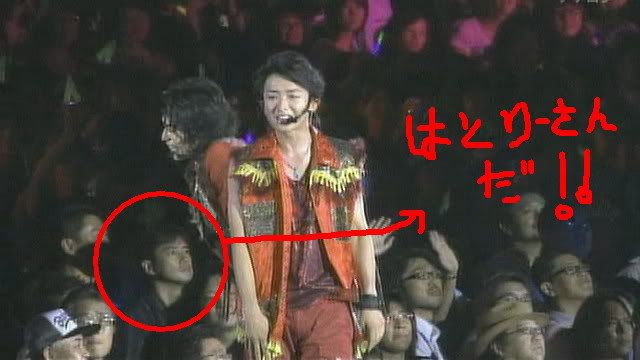 It's Hatori! From Zoom In! The announcer who is a big fan of Arashi's. xDDD Look at how serious he was.