1 December 2008
Guest: Daigo
Daigo is the frontman of a band called Breakerz and his late grandfather was the Prime Minister of Japan back in the Showa period. I remember him back when he didn't - and I quote - "use his grandfather's name to get up there". I thought he had a "Stardust" behind his Daigo and then I thought, "Damn, this guy is gay." I mean... stardust?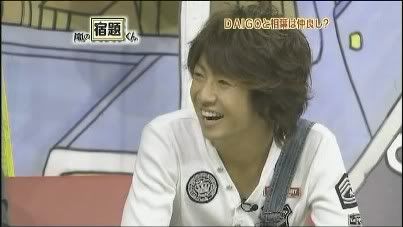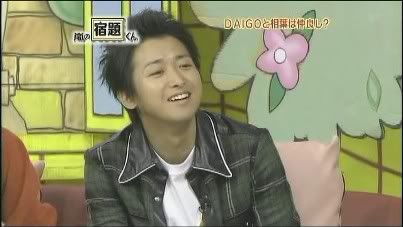 He said that he as in "Stand Up!!!" I didn't notice at all. LOL. I remember that episode of Tensai! that he appeared in. I never thought that we can find another Aiba. But apparently, we have. They are not THAT alike to me. Probably just the stupid part. Aiba is a bit more... 'high' tension and perpetually excited (on-screen, that is.) While Daigo speaks like... he's on some sort of drugs or is very sleepy. He stops way too many times in a sentence and it is a bore just waiting for him to finish his sentence. But he is very easy on the eyes. We like easy on the eyes.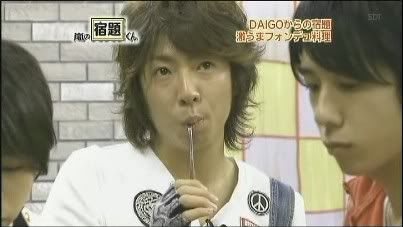 I dare say he might be hotter than all of the Arashi members. Not kidding. Arashi's greatest attraction is not that they're way hot anyways. It is because they're happy and gay, as in cheerful gay. Or the other one. Or not. You know? I don't know.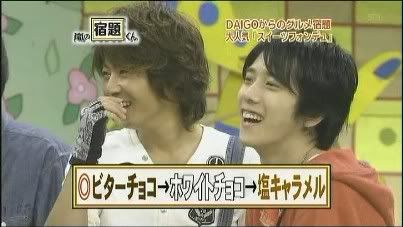 Nino scares me a bit. You know how when the members fool around and act stupid for a while then Nino would butt in, with his whiny little high-pitched voice and sorta like... yell at them? xD It is very endearing yet a bit creepy. I don't want to be told off like that. Nino is like a tigress, always ready to pounce. When Ohno and Jun were playing with the cheese fondue thingie, that voice just came out and scared the crap out of me. T_T
Jun's hair. Not very flattering for his features. But gosh it is so very adorable. Ain't it? xD Aiba hit his teeth with the fork while eating. Actually, it is not that rare and not very shocking is it? I mean, I did that a lot of times.
When Jun was eating the second dish with the Chinese-ish cuisine fondue, his reaction could pass for a Sho. xD Seriously, that exaggerated reaction with the sound that he made. Very Sho. Bordering on orgasmic, that expression of his. Ah, it is good that now they're all stupid. I love all stupid Arashi more than a Jun serious-the rest stupid Arashi.
Daigo made everyone LOL like crazy. It is in the way he speaks, the way he says "Maji-su-ne"... xD He's quite a character. xD And a Do-M which is... again, very Aiba. And the man's poses. The "Wish, kyu kyu." Let us ignore the new version with the "kyu kyu"... what the hell is the "Wish" thingie? Is it supposed to be cool? I don't get these people, really. xD But it is helluva entertaining.
Aibaland corner had quite a boring game and... Ohno sorta like... embarrassed himself and Aiba hugged him as he apologized. Ah this is the legendary "Member Love" is it not? Ohno failed so badly. xD And poor Sho never got to play fair like the others. xD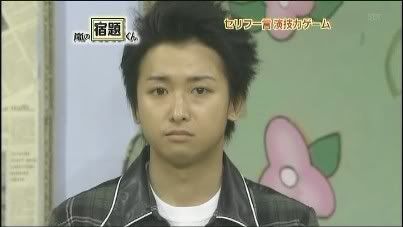 Preview of Odoroki no Arashi 5. The return of Mirrorman. I look forward to it. Very. Totally. It is so packed with stupidity, we tear up that the thought of it.
P.S. I so finished my finals. I am so happy, I am going on a marathon watching 6 years' worth of Arashi TV shows starting from Mayonaka no Arashi. I rock. Of course, that is after my compulsory post-exam celebratory party. xD I have yet to watch the KAT-TUN PV. xD I am going to now. I fear... dum dum dum dum.