22 December 2008
I never thought I'd jump on the bandwagon. I thought V6 was the oldest I'd go. I probably missed SMAP by a decade... but as the great Kojima Yoshio once said... It doesn't matter! It appears to be wrong. I never thought I'd say this, but... I... like SMAP. I actually like them. And I am now willing to give them the credit that they deserve which I haven't given them before. Sure, they cannot sing for shit. I don't take that part of what I said back. They cannot sing. But... somehow... they... just... pull you in. And I can see SMAP as the template on which Arashi was created.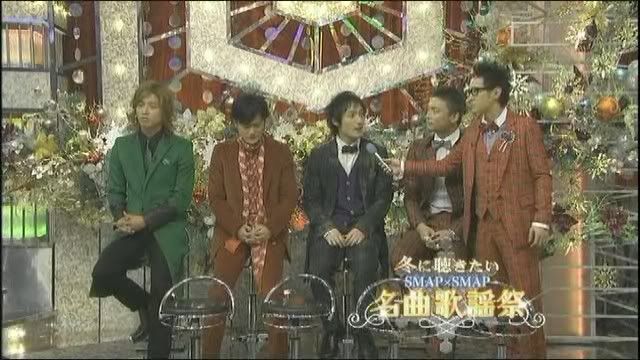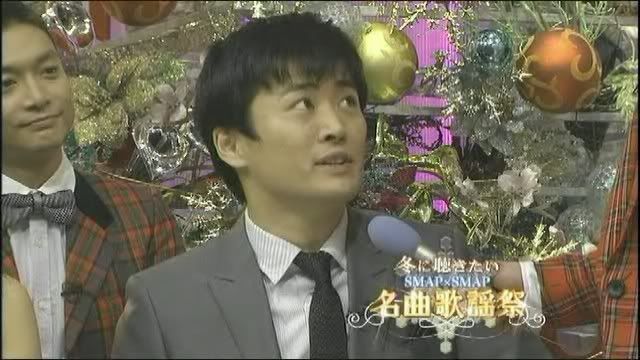 I don't know SMAP that well yet, so... I need to observe a bit first. Upon first observation, MatsuJun is KimuTaku. Nino is Nakai. Sho is Shingo. Tsuyoshi is Satoshi. Aiba-chan is Goro-chan. xD xD And it is NOT the name, I swear, upon which I decide that. KimuTaku is the... perfect example for the junior groups with a clear bait. The star of the group - I hate to say it, but there is. Jun and Kame were clearly taking notes from him. He is what all Johnny's want to be.
This is a Winter Music Special thing and all these big names went because it is SMAP's show. This show is so great because the original singers came and sang live. It is not just playing an ancient video they dug up. These people came AND sang. The songs... some were from 1985 and... these people are retired and they came. Amazing, really.
Hirose Koumi - Romance no Kami-sama. This song is one that I have seen numerous times on various rankings on M-sta. You know, those two/three-hour-episodes where they play videos from way back when. I thought that woman in the videos looked annoying and was too excited when she was singing. I can see that she toned down, now that song doesn't seem that bad. It wasn't bad initially, but everytime I hear that song, her overexcited face appears in my mind. I cannot have that.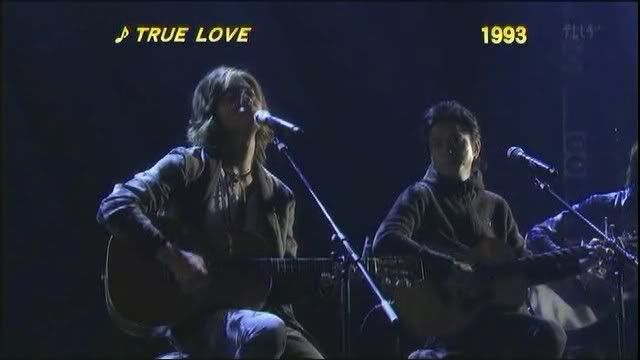 Fujii Fumiya - True Love. OMFG OMFG was what I did when I saw it. To have KimuTaku do a collaboration with him on THIS particular song is amazing. I sat through the performance with my full attention on it. It was great. FYI, True Love is the theme song for Asunaro Hakusho. The drama which I didn't sit through because I decided that it was too... vintage. xD I couldn't watch the first Star Wars trilogy, okay? No matter how notorious, I just couldn't. Same thing applies here. But the song is great and the notoriety of the drama was enough to wow me. xD I don't have to watch it. xD I think KimuTaku is the sex of SMAP. No? I think MatsuJun learned from him a lot. But somehow, when MatsuJun does it, I just want to laugh. xD And I did in their recent performance on MSSL.
Inagaki Junichi - Christmas Carol no Koro ni ha. Err... Don't know the song. Didn't quite watch the performance. xD
Ishii Akemi - CHA-CHA-CHA. Apparently this was the song for a drama starring Akashiya Sanma back when he was all hot and hunky. Well... or something like that. xD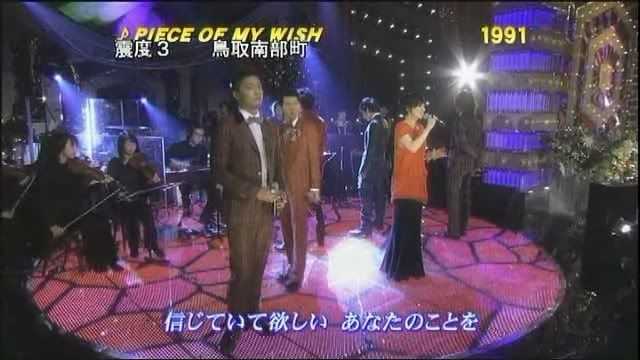 Imai Miki - Piece of my Wish + Pride. I don't know why everyone likes Imai Miki. Sure the songs were kinda nice. But they weren't great. But that is just me.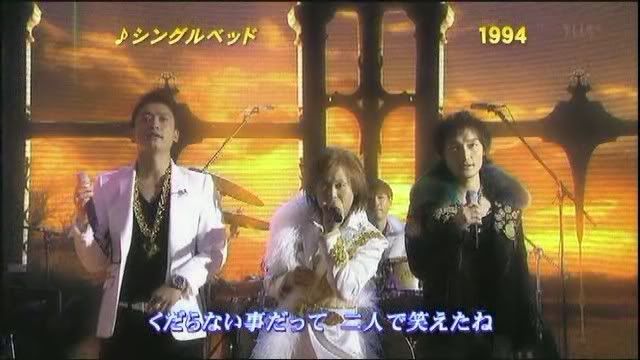 SharanQ - Single Bed. I HAVE THIS SONG! Well, I have a few of the others like "True Love" and "Pride" too. But I have a SharanQ song! xD I don't know why I am so excited. But I seldom - or never - listen to it because his eyebrows, Tsunku's eyebrows back in 1994 scared the shit out of me. So I probably decided that I don't need to remember it. It is, however, a nice song. And Mako-chan! He was in Domoto Kyoudai was he not?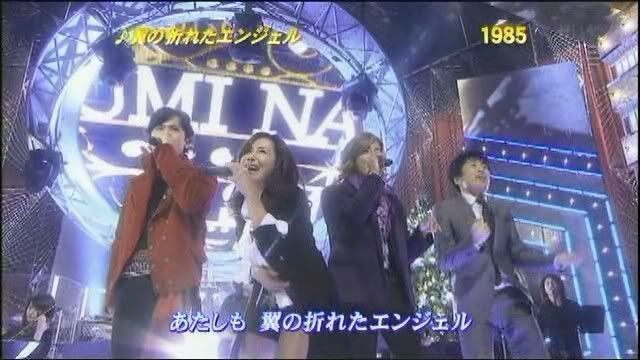 Nakahara Ayumi - Tsubasa no Oreta Angel. This... was an amazing performance! Seriously! Gekidan Hitori was pushed on to the stage and sang along. KimuTaku was... xD like... I... xD This was a nice performance.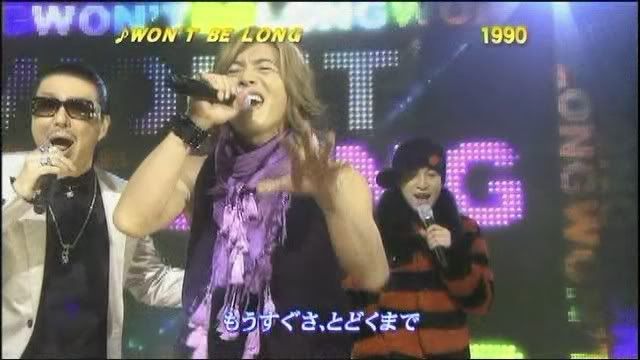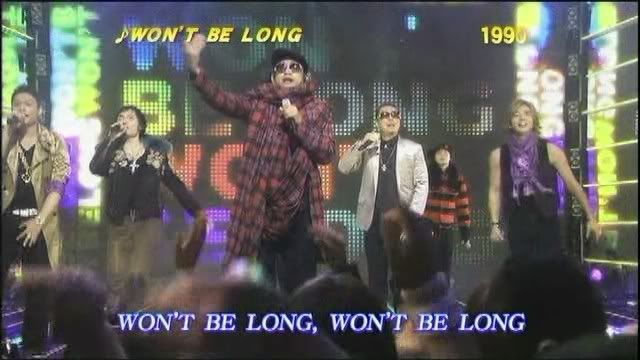 Bubblegum Brothers - Won't Be Long. Ah ha! I knew they were making a comeback when they collaborated with RSP on that La La La Love Song! xD And KimuTaku was oozing sex when he was dancing. I kid you not. xD What? I am in a phase. It'll pass. I mean, they're way before my time anyways. xD EXILE did a cover of this song with Koda Kumi. xD Tom! Tom is still doing Domoto Kyoudai and once rowed a boat with Arashi. xD Yes, he participated. LOL.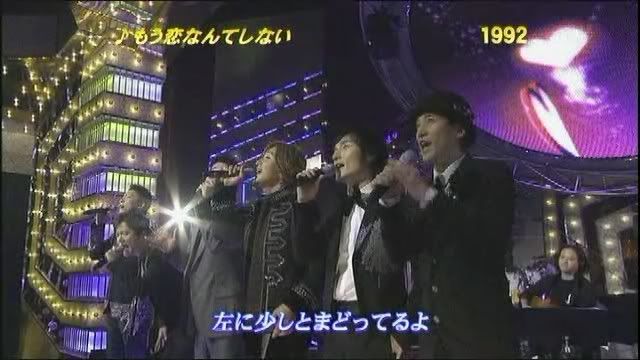 Makihara Noriyuki - Donna Toki mo + Mou Koi Nante Shinai + Sekai ni Hitotsu Dake no Hana. xD I love this performance! How nostalgic! I remember closing my ears from the shock when Nakai was singing "Sekai ni" at the 2003 Music Station Super Live. I was like... "And these people are big?!" xD Makihara Noriyuki writes songs that are... happy and... warm. I like. xD They're very soothing. I mean the tune. I have to say, it is a pain watching Nakai sing. More so that MatsuJun who has... undoubtedly improved. Just a bit though. But Nakai. Sigh... I have goosebumps when he sings. xDDD But oh well, he is more of a comedian. What? He isn't? I am shocked.
ISHIHARA HAS THE SAME BERFDEI AS AIBA. THEY SHOULD TOTALLY MAKE BABIES. What? xD You can tell it is a joke right? Right?! I'd like to think that I am funny.