16 December 2008
I am not going to comment on all of the performances because I am not really in the mood to. Down with the flu, I might be.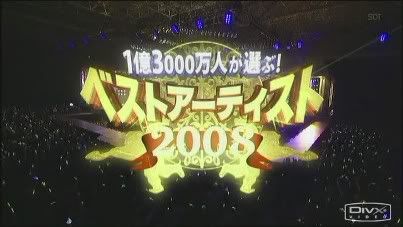 Kanjani8 - Musekinin Hero
Kanjani8 was the first to perform. Ryo's hair was... different. I have yet to decide if I liked it. Subaru, Yoko and Ryo spoke of their trip to China. Yoko's perm... is... fugly. But Murakami is... very manly. Mmm... The song was very uplifting, but I am thinking a lot about how their B-sides are almost always better and that their A-sides are just the A-sides because it suits their image of being noisy and hyperactive - which I quite enjoy if it wasn't overdone which it mostly is. I just dislike Maruyama when he overacts because it is really annoying. Subaru scares me a lot. That's about all.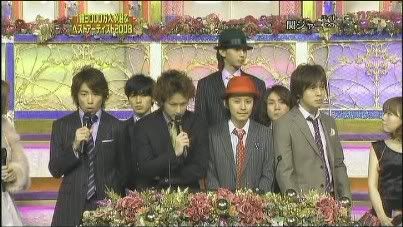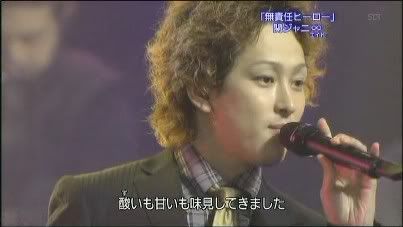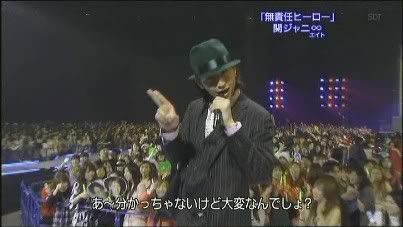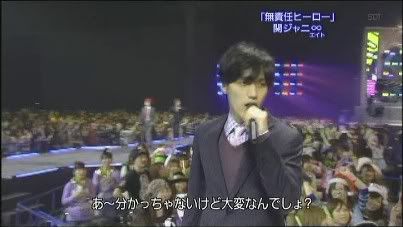 KAT-TUN - White Xmas
Remember when I gave Jin credit for his singing? Well... I take it back. xD At the beginning of the song, why was Kame holding his microphone like that? Does he think its cool? xD Oh look Jin and Kame, standing next to each other, WOW DAMN THAT IS PROOF, AKame LIVES! xDDD Okay... like... seriously, my imitations of KAT-TUN fangirls, totally FTW. xD I rock. Wouldn't have bothered to watch if Junno isn't so... hot. The song is not BAD, but it is nothing special. It is like every other Christmas ballad, really. Why is Koki doing that "I use so much energy singing I must try to look like I use a lot of effort" thing when I cannot even hear his voice?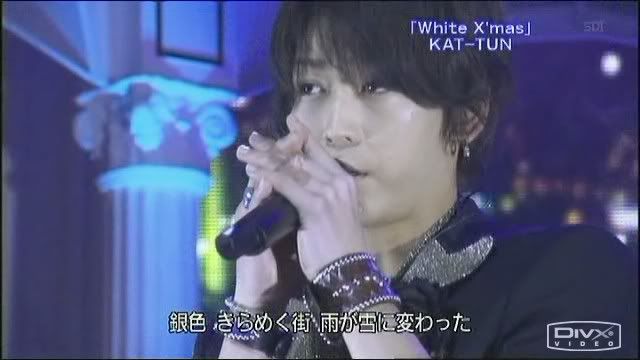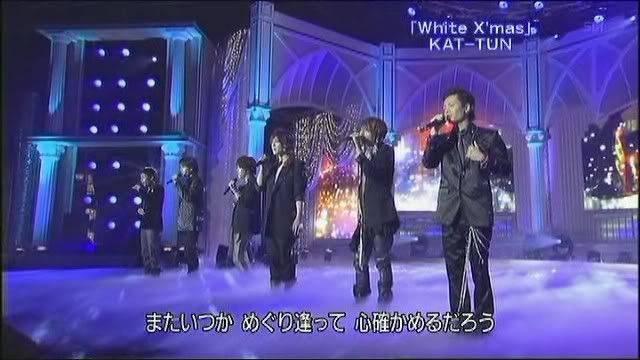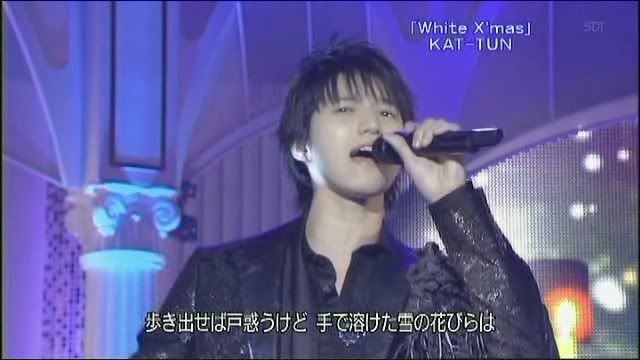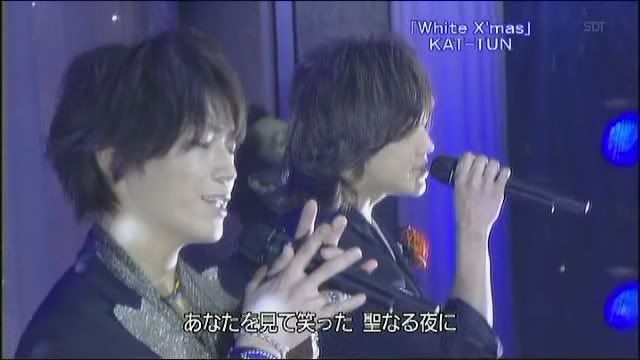 KinKi Kids - Secret Code
I am not sure of the song but I sure like DoTs with short hair. xD Okay, if these two do not look like an old married couple, I am not sure which other couple would. Kanjani8 seems to have a close relationship with their fellow Kansai seniors. I like. The song is... horrible. And I don't mean to diss, I am just saying... this song is horrible. xD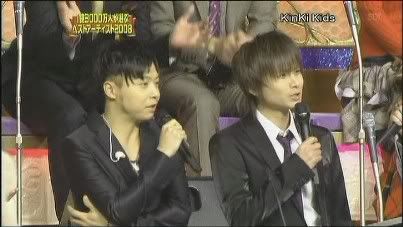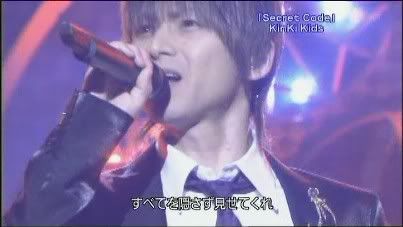 Nakashima Mika - Orion
I love Mika! She's great! And I cannot say that enough! Love the song, love her look. The hosts later asked Ryo about Mika because they are costars in the drama. I have a feeling that if Ryo and Mika were to be alone in a room, it will be silent the whole time with nothing awkward-ness hanging in the air. xD I'd wish that the song would sell better, really. Uh... I have to say that Mika should place her focus on ballads like these and perhaps stray into other genres once in a while but not too often. She is at her best when she sings ballads.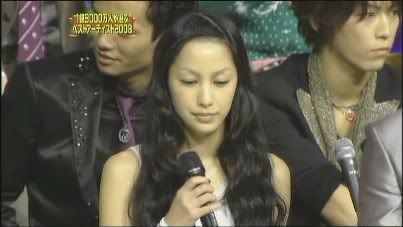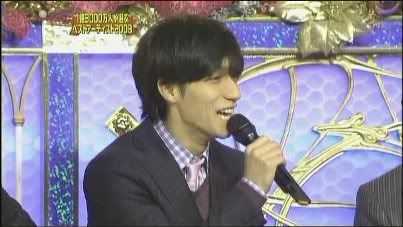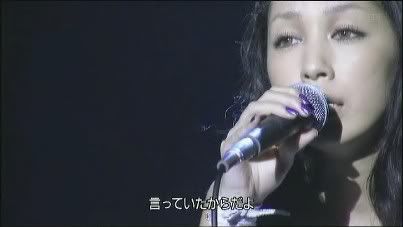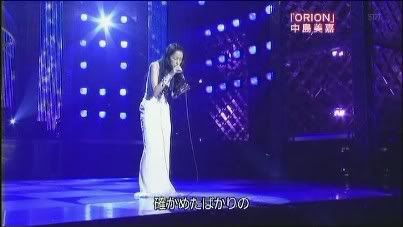 Perfume - Polyrhythm + Dream Fighter
I am starting to like this group. Kashiyuka is the girly one, Nocchi is the mature-looking one and Aa-chan is the one with the perpetual dazed look in her eyes. Their songs are quite addictive and catchy. I like their strange choreography, if you can call it that. I think they call their genre electropop. I like it, it is very uplifting and enjoyable. Plus the girls are very pleasant despite exaggerated dumbness on part of Aa-chan, which is, tolerable because its funny.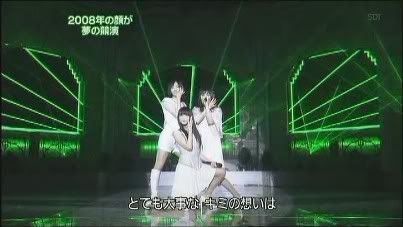 Amuro Namie - New Look
Oh~ like... she looks perfect. Like... perfect. More so now, than ever before. I mean, when she was young, sure she looks pretty but now... I don't know. I wish I can be like that when I am over 30 and have... like.. kids. She looks gorgeous. The song is okay, but I have heard better from her. I loved the video of the song though. This performance should be pre-recorded as she had something else on that day, I think. I don't know what she is doing performing, if I were her, I would stay in front of the mirror 24/7 and bite anyone who tells me to do something else. xDDD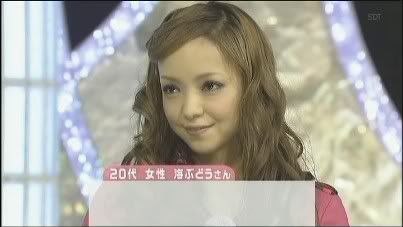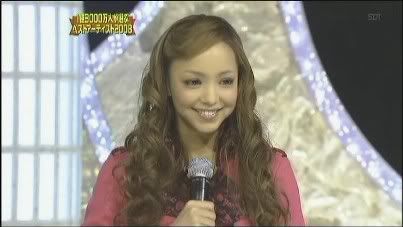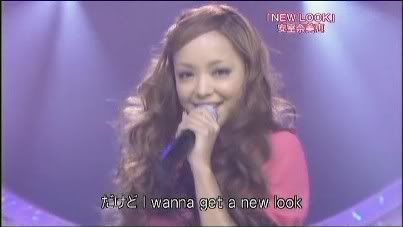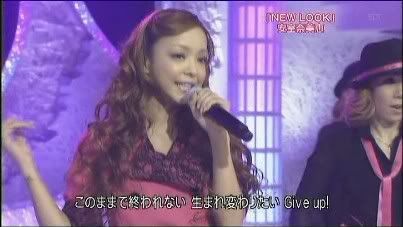 Hirai Ken - Itsuka Hanareru Hi ga Kitemo
Hirai Ken met Mika in NYC and like, had lunch/dinner/a certain meal with her. xD They're friends! I like all these celebrity friends thing. And it seems that Mika is quite the social butterfly. Who'd have thought? So is Ken though. xD I'd do Kuu's performance which is right after this but I don't like her dress. It makes her look old.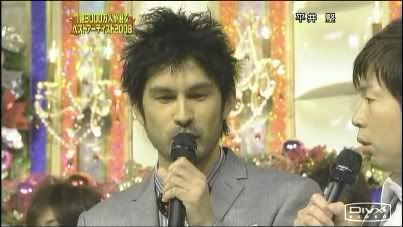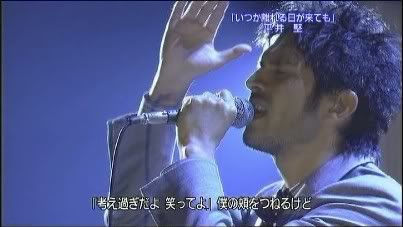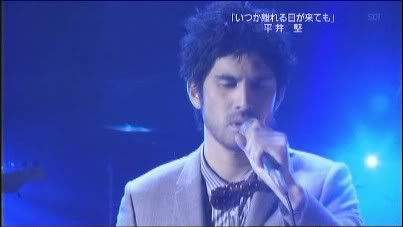 V6 - Chou
I like their Chou Chou song. It just makes you wanna jump up and shake your booty. And Morita, damn, that facial hair. Seriously, he reminds me of an angry chipmunk with an attitude. xD I like their interaction between TOKIO and V6. They're like... old friends. Wait... they ARE old friends. xD Okada spoke a bit about his camera phase and I think Yamaguchi said that Okada is a liar. xD The pictures he took of other members were funny.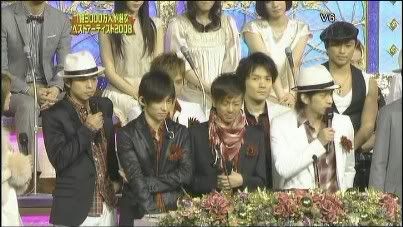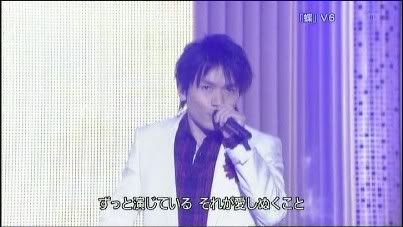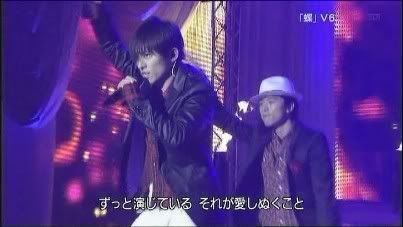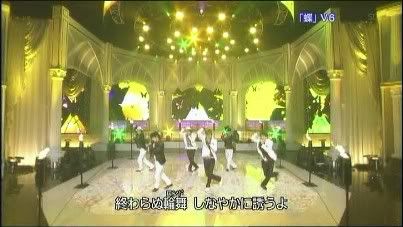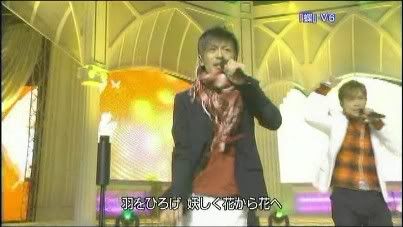 TOKIO - Amagasa
TOKIO made fun of their leader again. Poor Joushima, turning 40 in a couple of years. None of the members in TOKIO are in their twenties anymore. And Mabo is oh-so-shaggable. Seriously. I never forgave Nagase for dating Aibu Saki and NOT Ayu. I know its their own business, but Ayu is like... half deaf and old. So, yeah, it is easy for the guy to just walk about and look about for younger fishes. I mean, heck, Aibu Saki is but a year older than me! I am not liking the song. I think they should stick to Nakajima Miyuki-composed songs.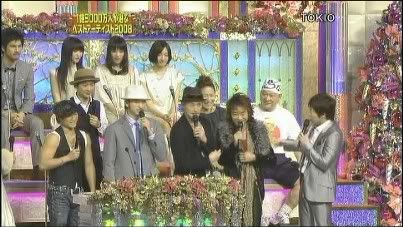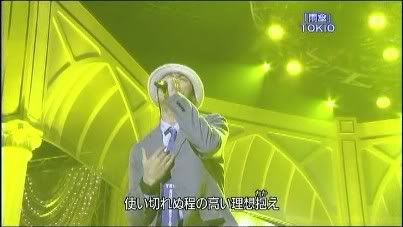 Aoyama Thelma - Soba ni Iru ne
It is a nice song. Sad that Soulja wasn't there. He wrote the song right? But Aoyama Thelma profited the most out of the success of their collaboration. And damn this girl can sing. I watched FNS, and there was this collab between her, some old timer, ayaka, Perfume and Pabo. And I really like Thelma's voice. It is a very... soothing one and I think she can do R'n'B well. She has a very pleasant face too, smiley and friendly and all. She had another single out since the success of this song, I am not sure if it was a hit. I hope she is not a one hit wonder. The one who performed next was Kiyama Yuusaku. Due to my limited knowledge of the man, I'll skip it. It was a nice song though.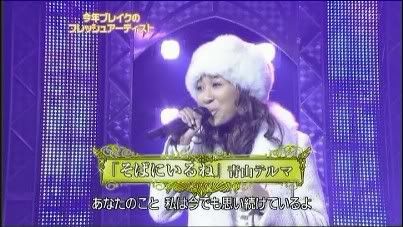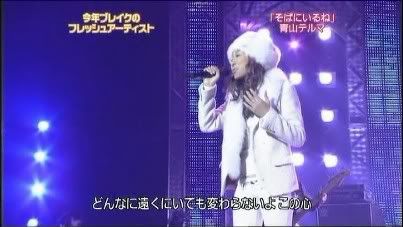 Speed - Medley (White Love, Steady, Body&Soul, Ashita no Sora)
Ah~ feeding on past success, milking the cow dry. But I guess they'd need it. Coming back isn't an easy task. A lot of girls my age were fans of Speed back then. I saw Takako wearing a pair of orange pants in one of their videos, I went and got orange pants. Never wore them anywhere though... xD I saw Takako with bangs, I got bangs. Ah~ xD Yeah, I liked them a lot. You grow out of it though. Then you are just like me, lusting over facial hair and pretty bois. Sad. Wish I had more of a feminist spirit in me. There was always a debate over who is hotter, Hiroko or Takako. From what I noticed, fanbois fancy Hiro while girls look up to Takako. xD I wish for once they stop performin "White Love" and perform "Alive" instead. I love "Alive". There was a rumour that Takako dated Jin. C'mon, seriously! Takako can do way better than that cow.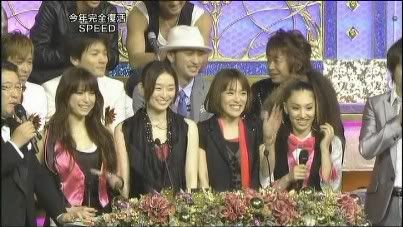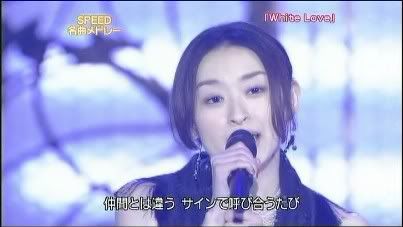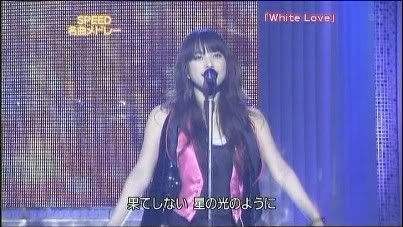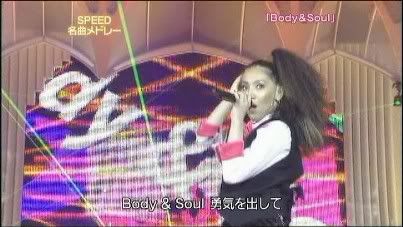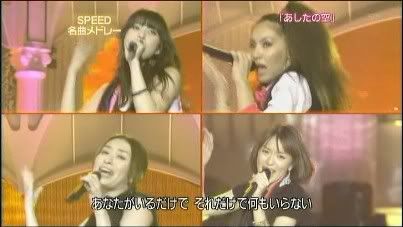 Ayaka - Okaeri
I didn't know Chan-Ogu is such a big fan of Ayaka. xD He calls himself her dad. xD I love that horny old man, really. His deadpan humour is... just... great. Ayaka's voice is strong and she composes! Such talent at such a young age. (Yes, she is young. Disagree with that and I will bite. Cos if she isn't young... that means... I am not either.) She's not terribly good looking, but what she has is her youth and her talent. So yeah, she kicks all those other idols' asses. I mean... singing should be left to people who can. Pretty faces and big breasts should be left for photobooks and porn. No? She performed the theme song for "Zettai Kareshi" ah that was a long time ago. xD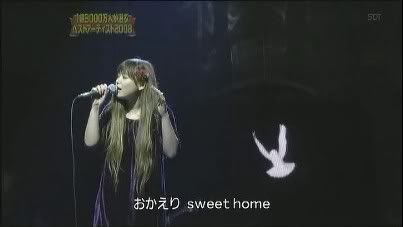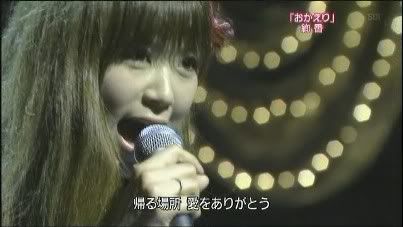 Kobukuro - Toki no Ashioto
Speaking of the combo of extreme height and lack thereof. xD This should be the perfect example. Although this is said to be the 10th anniversary of their formation, it is not until two or three years ago that I hear of them. I guess they didn't rise to fame instantly. But they're great. This song of theirs is great! Their voices are very calming and they harmonize well. Though, I have to say, the man with the sunglasses, very intimidating.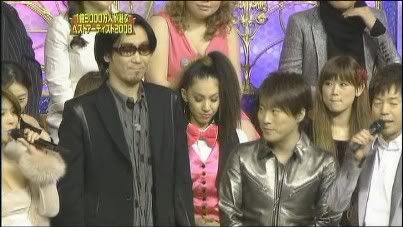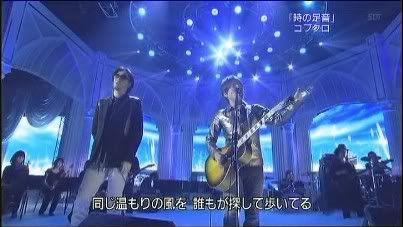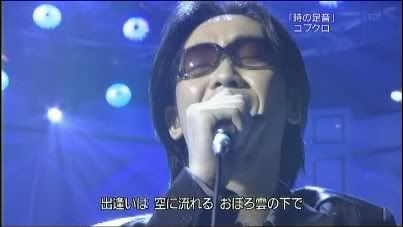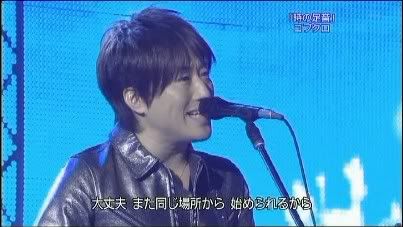 Arashi - One Love, Kaze no Mukou e
MatsuJun was late, quite fashionably, I might add. I think he was at the awards ceremony of GQ magazine's man of the year. Bit Takeshi was also there and Sekai no Nabeatsu. I am not sure why the latter is there, but okay. Jun ran, literally, towards the stage. I don't like how Jun hogs the spot light, but its not like he refused to share it. So its okay, I guess. Sigh, I truly hope "Truth" will be performed at MSSL. Jun just HAD to tie that tablecloth a different way from the others didn't he? What does he think that he is the star of the group? Well... that wouldn't be entirely false. Tee hee. They talked about their sales success again and other crap like that.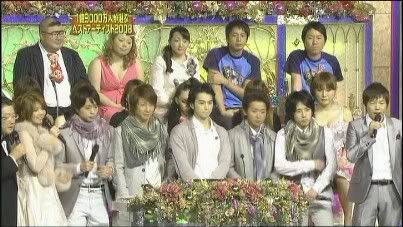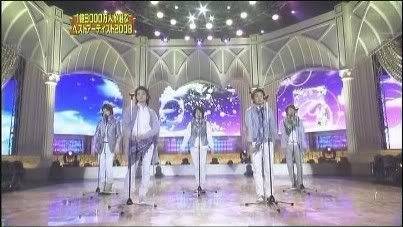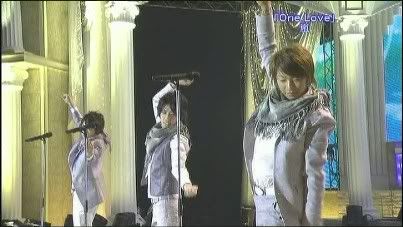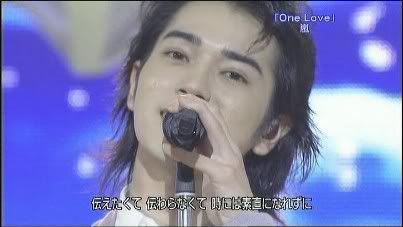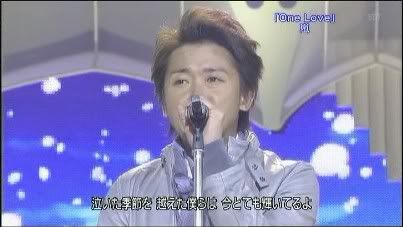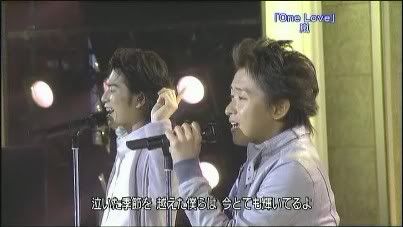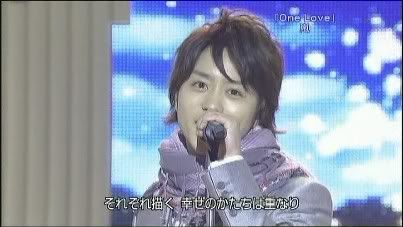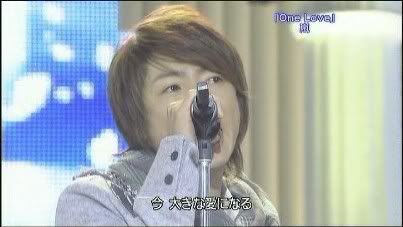 But oh they look yummy. Especially Aiba and Jun. And Sho. I like the other two midgets, but I just cannot fathom the idea of categorizing them in the shaggable group. They're so... midget-y and... innocent looking. I cannot violate that. Or can I? xDDD I have strange thoughts in my mind lately. Strange, strange thoughts. I need a healthier hobby. Answer "Watching Arashi" as my hobby will not impress anyone anywhere, really. Did anyone catch a JunToshi moment where the other three were singing and they just looked at each other and smile? It is during the "Onaji, asu yakusoku shiyou" part... when the other three were singing. xD What? I like how protective Jun is towards Ohno. Then Jun was all body contact with Nino during the second song. He is, obviously, trying to get in between Ohmiya. Sho was caught humping air during his rap. I don't blame him, air is kinda sexy. xD Aiba just looks pretty and so... ah~~