6 December 2008
Guest: Some wrestling couple... (Update: Sasaki Keisuke and Hokuto Akira)
I secretly hope that perhaps Erika and Ryo would appear on the show somewhere along the line. T_T So not happening is it? But this couple is so adorable and so in love. Lol! When the man was asking for Arashi's agreement on how cute his wife is.... AWWW... Ohno's goatie is oh-so-manly. I love facial hair, so, so much. If Akanishi were to grow facial hair... WAIT NO, I don't even like Koki with facial hair. Uh... Kame? Okay, if Kame were to grow facial hair, I will stop calling him a crocodile.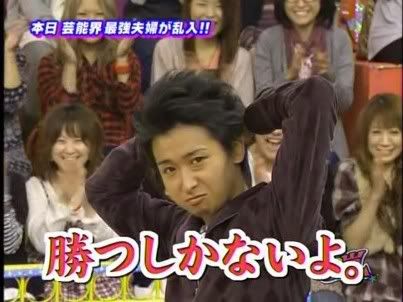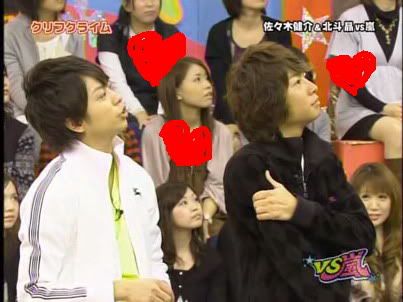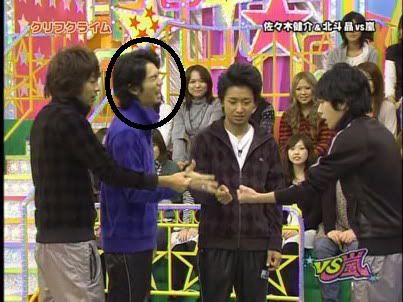 After the guest team did the cliff climbing, Sho spoke as if he was a pro at it. xD Then, of course, Arashi being Arashi, they made him do it. And four of them refused to support him by throwing him one of those grabby thingies. xD Then they decided to janken on it and the loser would have to do it. Sho was like WTF, so the winner would do it instead. Jun won, the rest cheered because they lost. (Did that sound funny or was it just me?) Sho did an amazing job for a consistent loser-character. Actually, he did an amazing job period. Oh that cliff climbing makes him look so... so... shaggable.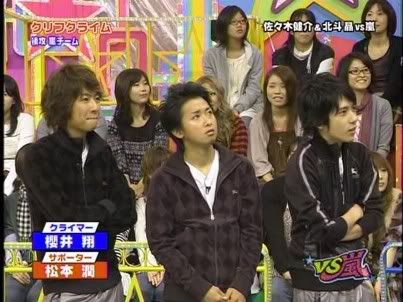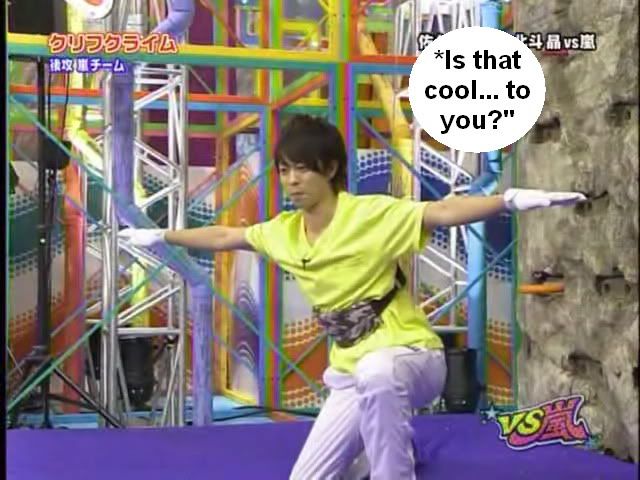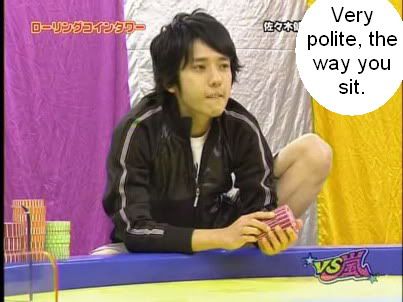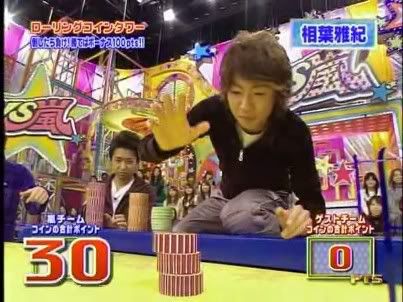 And Falling Pipe corner... xDDD Ohno was on parole due to his great, big mess up the last time he was on the spot. xD He was all "I'll do this while I sit and chill," and he got nuthin'. xD So he was humble this time and blamed Sho for his first participation this episode on the last 10 minutes of the show. I noticed that more and more male audience appear for taping on VS Arashi. Like attracts like. xD What? I really think they all want a piece of Jun. About 45% of the audience were male. Does that explain their increased sales? Anyway, Ohno was like "I was about to enter in the cliff climber corner as the support and you butted in, so I didn't want to anymore." xD They made Sho apologize formally. Hilarity. Ohno was, for the first time, very rude to another for about... 30 seconds. That was the longest. It was... stuff. He got very good results, a double-catch.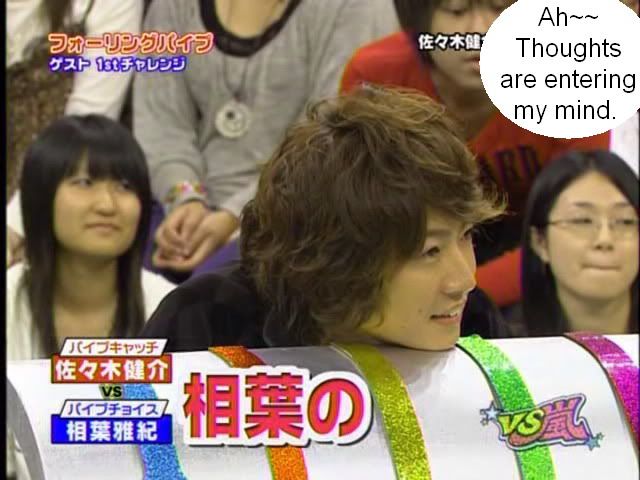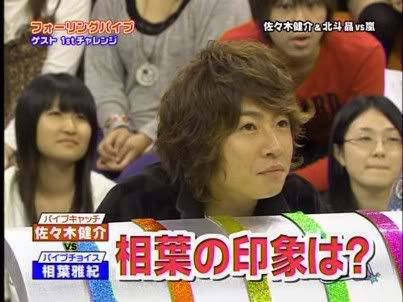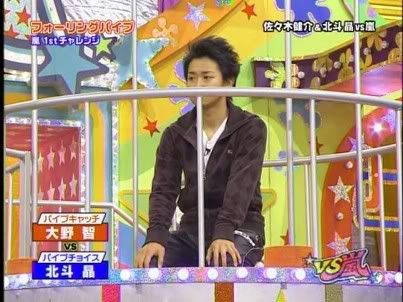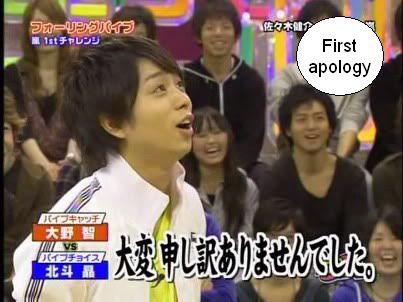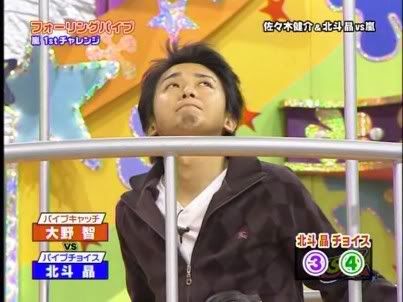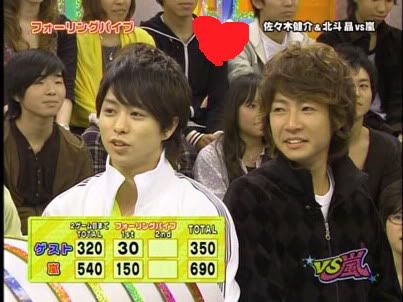 They made Sho apologize to the woman for calling her an old woman when he... NEVER SAID A WORD. xD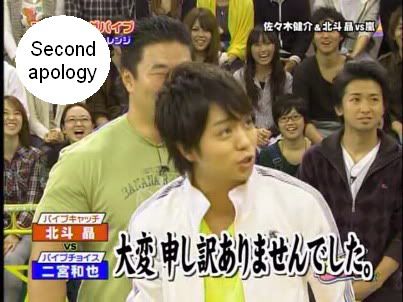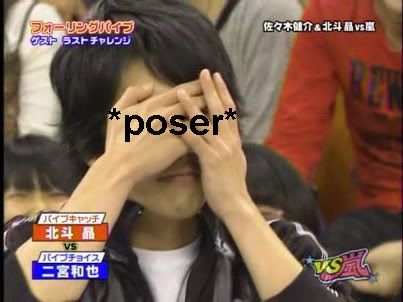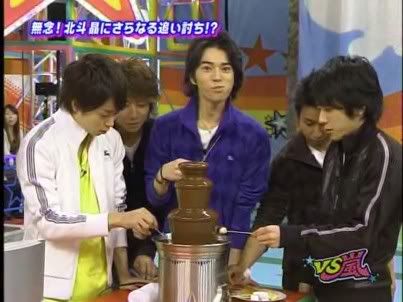 They then ate the pressie the woman asked for - Chocolate fondue, right in front of her. xD Is that not a torture worst than the embarrassment of defeat? I think so. When they praised Sho... Sho was like "I am not used to praises from you people." AND THEN THERE WAS SAKURAIBA. AND THEN THERE WAS SAKURAIBA. OMFG OMFG... Aiba was pretending to interview Sho over his great victory and then he shoved an imaginary phallic thing which, Aiba held by his hand, into Sho's face. We shall assume said phallic thing is a microphone of some sort or indecent thoughts will start flowing. xD And Sho actually was all smiles as he complained of pain. So Jun, Ohno and Nino walked away, leaving the two with a weird atmosphere in the air.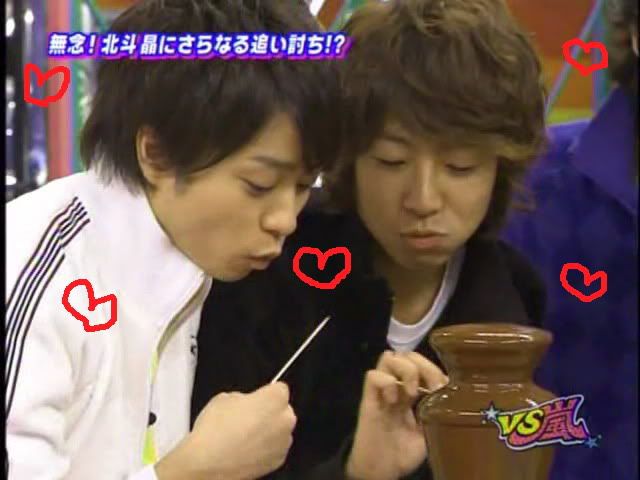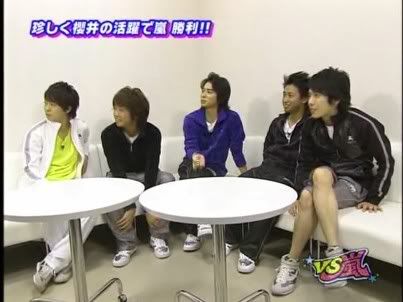 Am I missing something here? Are they like... dating? Cos it feels like it. The whole night, the camera kept focusing on the two... was it building up to this? xD Or am I reading too much into the whole thing? But... it is nice, is it not? The way I interpreted the situation.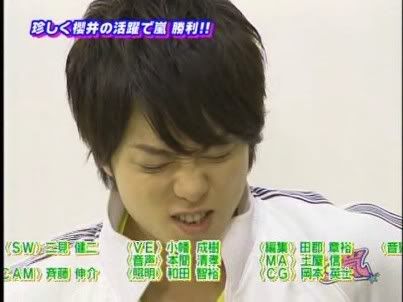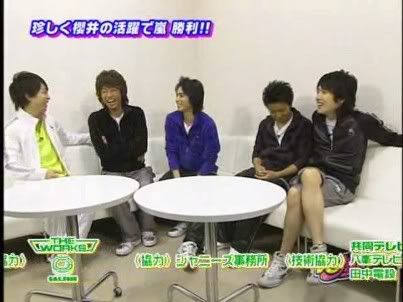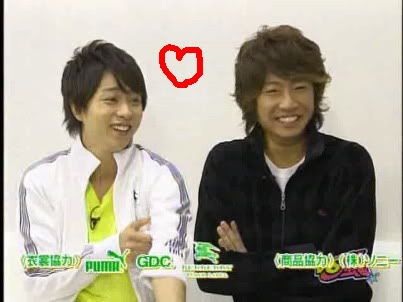 I love this show. I love this show. OMFG I will miss it for a week. How do I survive? *Cues Gloria Gaynor's very extremely wellknown song.*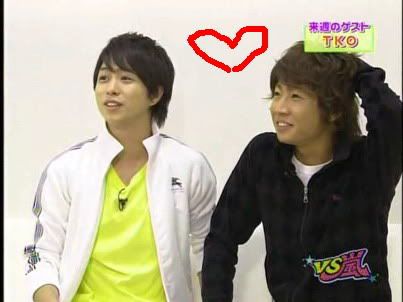 And I shall go eat some kiwi. Kiwis are... addictive. Yogurt too. Low-fat ones. Kiwi-flavoured. xDDD