19 January 2009
Guest: Gal Sone
I am going to do this fast and then off I go to watch CNN. xD The inauguration will be around 10p.m. for me. xD I am going off to watch the world's most powerful man as he officially enters his kingdom. I hope Anderson Cooper will be anchoring. Or something.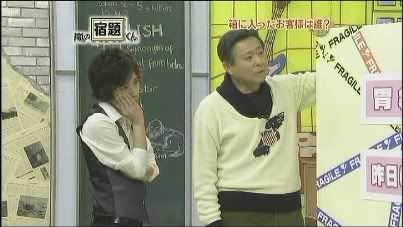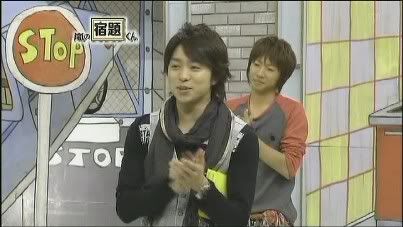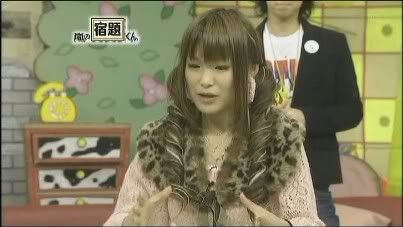 It was a fairly funny episode. Or you can just say that I can burst out laughing staring at a still picture of them, really. I don't know, maybe I need a shrink. The show began with Chan-Ogu questioning the eye contact between Jun and Ohno. Jun later questions the positions at which the members are standing and wondered when was this fixed. Sho said that it might be because the two were playing guardian angel-type-things for the show. xD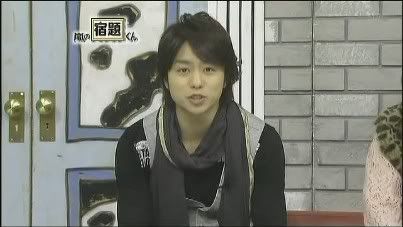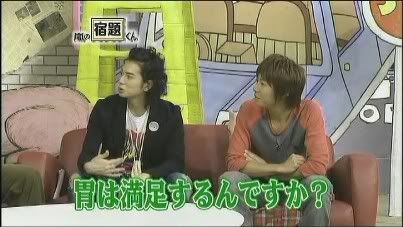 Gal Sone said that she won't feel totally full no matter how much she eats. Aiba burst out saying "Hey, my dog is like so too!" xD Oh~ see, this is why we like Aiba. This time, all the dishes were on spoons so that they can eat it all at once. For the first dish, everyone gets a spoon but the second and the third, they had to janken for it. When Aiba said he hated cheese, and when he wanted to use an example to illustrate his remark, he was stopped. But when they allowed him to say it, he couldn't say it, probably because someone would be out for his head if he said it on national TV, or something. When they had to janken, Nino won but couldn't eat uni (WTF is uni, like sea urchin?) Jun won. Sho was VERY disappointed, but got to kinda 'eat' it, or at least the image in the camera made it seem like so. Aiba got to eat the third dish even though Jun won because Jun~ is kind (despite the Do-S-ness) and couldn't describe the taste well because he's him.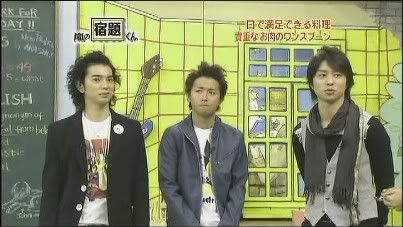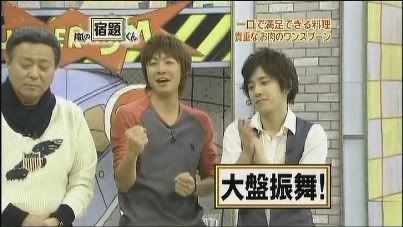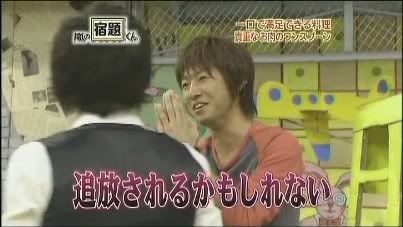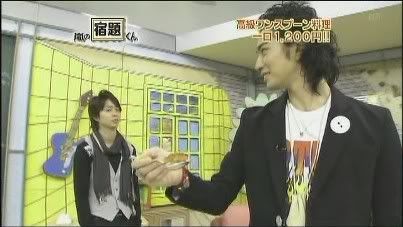 And the fourth~ Aiba's Mabo Tofu. xD Yes, Chinese food again, probably discreetly promoting his family business. Sneaky~ When they rest were kinda reluctant, Aiba got pissed and banged the table asking why do they dislike it so much. (He totally lashed out at Jun. xD I heart.) He separated the various ingredients of the dishes into four spoons and made them mix the food up in their mouths. Apparently, 1 in 5 would say it tastes similar to spring rolls. Guess how many people tasted the food? 5. Very accurate, the sample size just screams accuracy. xD Then they all tried and no one said so but they tasted Tan-Tan Men instead. (WTH is that?)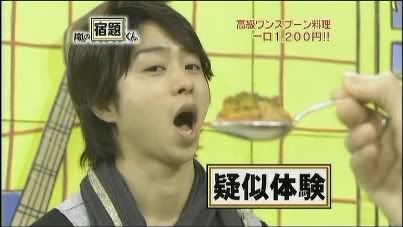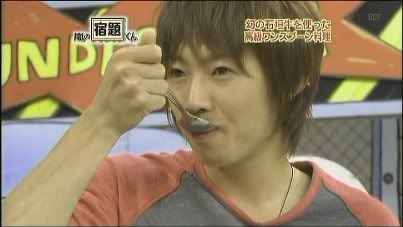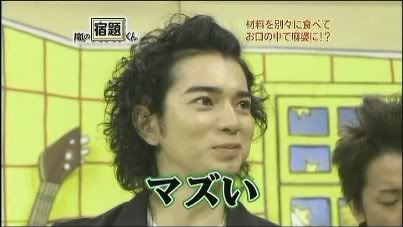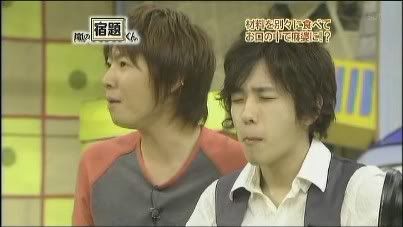 Gal Sone's ex-boyfriend is a leech and a wimp and an asshole. Just sayin'. I mean, he stole her money from her purse. I mean, do you call that a man?! Next came Aibaland. Gal Sone will eat three types of food, one of which she dislikes. The four Arashi members (minus Aiba) will eat four dishes, one of them will be served a type of food he dislikes. They will then guess. (FYI, Nino got served Mabo Tofu. xDDD That must be revenge for dissing Aiba.)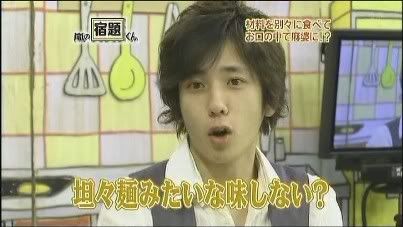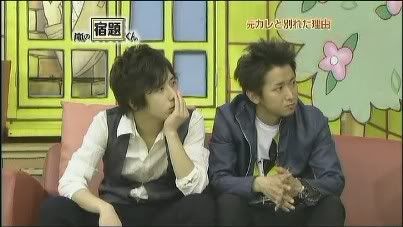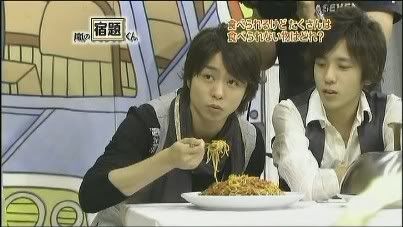 xD Sho~ unleashed his stupid. We like. They all guessed correctly. Good for them.
I'll go eat something. I am really hungry.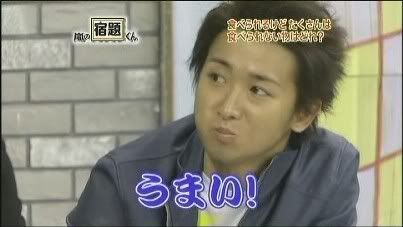 P.S. FUKAKYON WILL GO ON THE SHOW VERY SOON. We think she will be there to promote Yatterman cos Sho is stupid on this show and thus is unable to do that. WE LIKE. WE LIKE HER. WE LIKE HER + SHO. *Calms down*